Homemade whole wheat pizza dough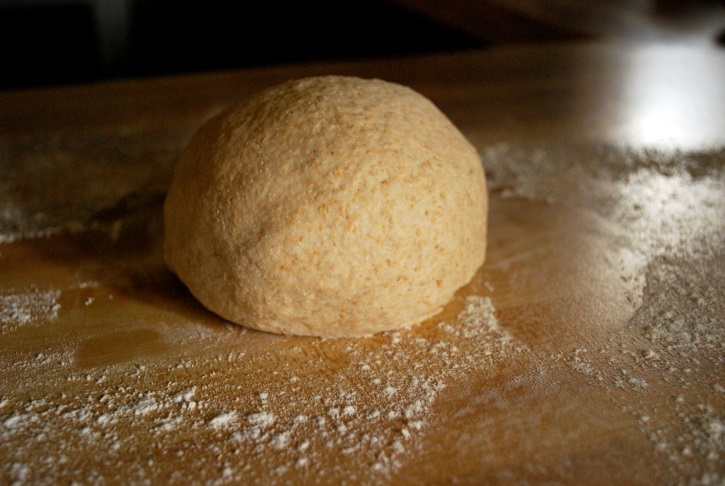 Homemade whole wheat pizza dough is great to create a home cooked meal that starts with the goodness of grains. Want to add more whole grain goodness to your recipe? Add wheat bran for a fibre boost.
Yield: 1 serving
Prep time: 70 minutes
Cook time: 25 minutes
Ingredients
2 ½ cups whole wheat flour, plus more for dusting
2 ¼ tsp active dry yeast
¾ tsp salt
1 cup warm water
1 tbsp extra virgin olive oil
1 tbsp white sugar
Directions
In a small bowl, combine yeast, water and 1 tsp sugar. Let sit for 5 minutes.
In a large bowl or the bowl of a stand mixer, combine 2 cups flour, salt and remaining sugar. Make a well in the center and add yeast mixture and olive oil.
Stir using the paddle attachment or a spoon until the dough just comes together, then knead, either by hand or in a stand mixer fixed with the dough hook, for about 5 minutes (3-4 minutes if using a stand mixer). Add remaining flour in 1 tbsp increments just until the dough pulls away from the sides of the bowl or is no longer sticky.
Shape dough into a ball, place in a lightly greased bowl and cover with lightly greased plastic wrap to rise until doubled, about 45 minutes to 1 hour.
Punch down risen dough, shape into a ball and place on a lightly floured pizza stone. Roll out into a circle of desired crust thickness and let rest about 10 minutes (at this time you can put on your desired toppings).