Whole wheat fattoush salad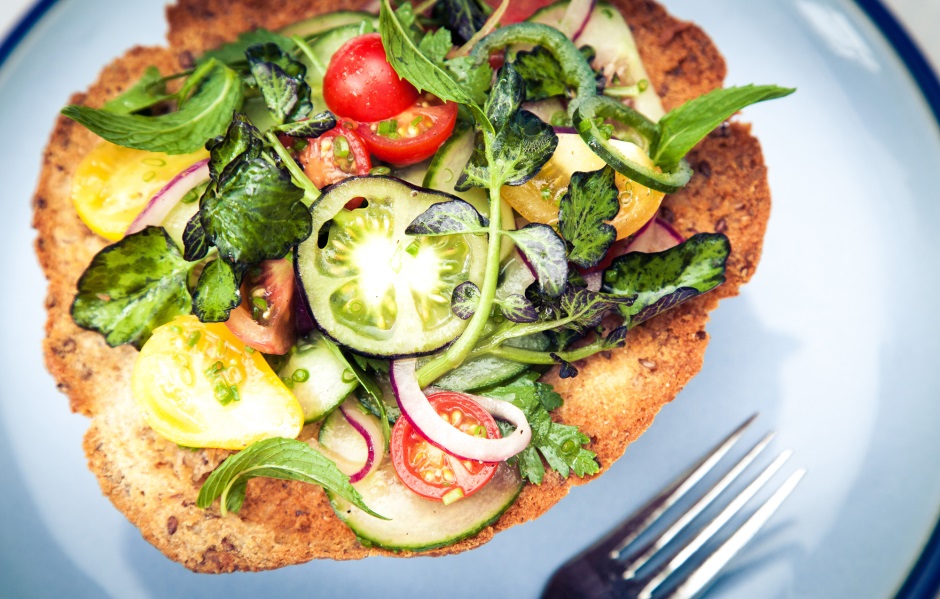 Whole wheat fattoush salad is a salad that mixes toasted flatbread with fresh vegetables. Choose whole-wheat pitas or flatbread for an extra whole-grain boost.
Yield: 6 servings
Prep time: 5 minutes
Cook time: 5 minutes
Ingredients
Whole wheat pita – 6 toasted
Mint – 20 leaves
Cilantro – 20 leaves
Cucumber – 1 diced
Bermuda onion – 1 sliced
Field tomato – 1 diced
Balkan yogurt -1 cup
Garlic -2 cloves diced
Lemon juice – 3 tbsp
Soy oil -6 tbsp
Sumac -3 tsp
Kosher salt – to taste
Directions
Open each of the 6 pitas and rub with fresh garlic, soy oil, sumac, salt and pepper.
Place the seasoned pita bread on a baking sheet and toast under the broiler until golden brown.
In a large bowl, mix cucumbers, onions, tomatoes, lemon juice, soy oil and sumac.
Once the salad has marinated for 2-3 minutes, begin to stack on top of the toasted pita.
Garnish with freshly picked mint and cilantro leaves, a fresh pinch of sumac and a drizzle of yogurt.