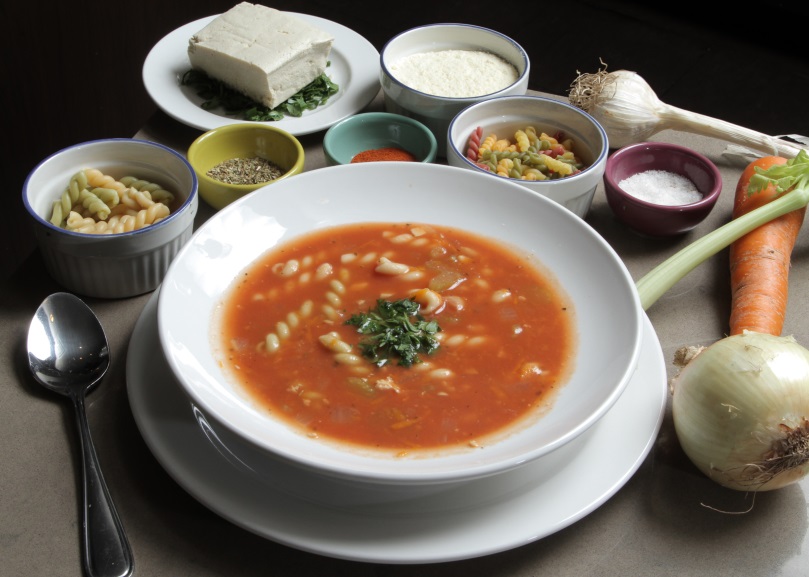 Ingredients:
12 cups ( 3L) vegetable stock or water
1 large onion, chopped
4 medium cloves garlic, chopped
1 large carrot, grated
3 stalks celery, thinly sliced
1 can (28 oz/796 ml) crushed tomatoes
2 tsp (10mL) each dried basil and oregano
1 cup (250 mL) penne pasta
8 oz (250g) firm or frozen tofu, thawed, squeezed dry and crumbled
1 can (14 oz/398 ml) Romano or Pinto beans, drained and rinsed
1/4 cup (60 mL) chopped fresh parsley
1 tsp (5 mL) salt
1/4 tsp (1mL) cayenne pepper
1/2 cup (125 mL) freshly grated Parmesan cheese
Directions:
In large pot or Dutch oven, heat 1 cup of the stock over medium heat.
Add onion and cook for 5 minutes or until softened. Add garlic, carrot, celery, tomatoes, basil, oregano and remaining stock; bring to boil. Reduce heat and simmer until vegetables are tender, about 10 minutes.
Add pasta; cook until tender, about 10 minutes.
Stir in tofu, beans, parsley, salt and cayenne .Simmer for 2 minutes.
Sprinkle each serving with Parmesan.
Defrosting Tofu:
Remove tofu from package, place in a deep bowl and cover with boiling water. Let stand for 10 minutes, then drain. Rinse with cold water, tear into little pieces and press firmly between your fingers to expel all moisture. Squeeze out the excess liquid as if the tofu were a sponge, then crumble.