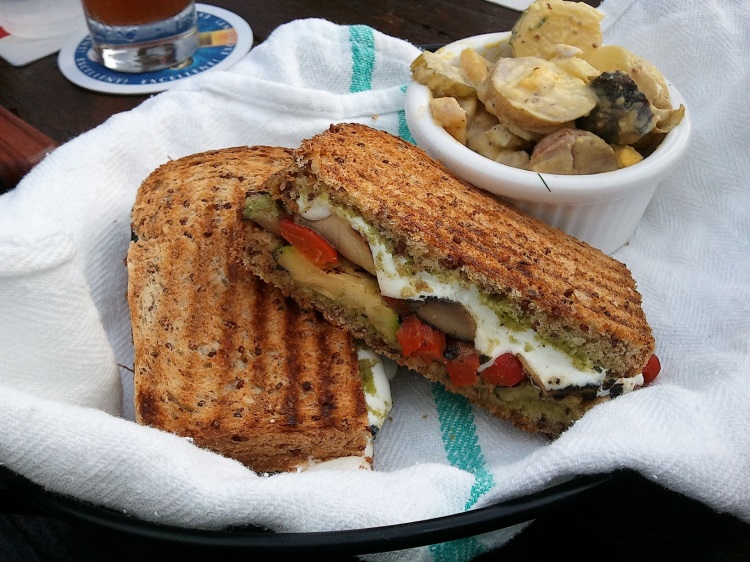 Get your protein first thing in the morning with our Breakfast Tofu Panini! Did you know, many health professionals still say breakfast is the most important meal of the day? Start your day off right with a healthy and balanced meal featuring Ontario grains.
Yield: 1 serving
Prep time: 10 minutes
Cook time: 20 minutes
Ingredients
½ pkg tofu, mashed
Pinch of turmeric
1 tbsp onion, chopped fine
1 tbsp green bell pepper, chopped fine
1 tbsp red bell pepper, chopped fine
1 whole wheat panini flatbread
½ cup tex-mex cheese, grated
1 tbsp salsa
Directions
Use a fork to mash up the tofu into smaller pieces on a baking sheet. It should resemble the consistency of scrambled eggs. Add a pinch of turmeric for colour.
Mix the chopped onion, green bell pepper, and red bell pepper into the tofu. Bake at 350F for 20 minutes. Check on the mixture and turn as needed to ensure even cooking.
Cut the panini flatbread in half.
Layer on the grated cheese, the tofu mixture, and the salsa onto one half of the flatbread.
Close sandwich with the other half of the flatbread and place onto panini grill, set to medium heat.
Heat and press the sandwich until the cheese has melted and the bread is crisp and golden.
Slice in half diagonally and serve immediately.