Basmati rice and vanilla soy milk pudding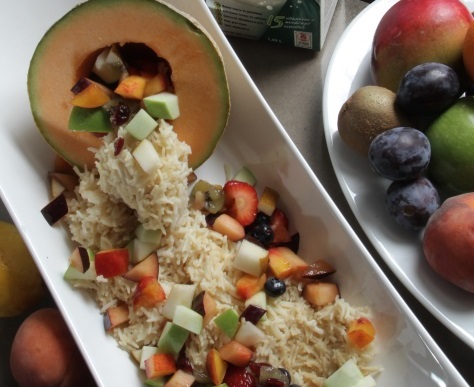 Basmati rice has distinct nutty flavours and floral aroma when cooking, and pairs very well with the creamy vanilla soy milk pudding. Try for dinner tonight!
Yield: 2 servings
Prep time: 20 minutes
Cook time: 15 minutes
Ingredients
1 cup basmati rice
1 cinnamon stick
4 cups vanilla soymilk
6 cups sliced or small cubed fruit: berries, melon, banana, kiwi, orange, pear
15 nuts, shelled and chopped
Directions
Rinse rice well. Soak in cold water for 20 minutes then drain.
Combine the rice, cinnamon stick and 2 cups vanilla soymilk in a pot. Bring to a boil, lower the heat and simmer until the soymilk has been absorbed. Add remaining 2 cups soymilk. Bring to a boil, lower heat and simmer for 10 minutes or until milk has been absorbed.
Remove cinnamon stick. Place cooked rice in a large bowl. Fold the fruit into the rice, garnish with nuts and serve immediately. Delicious hot or cold.