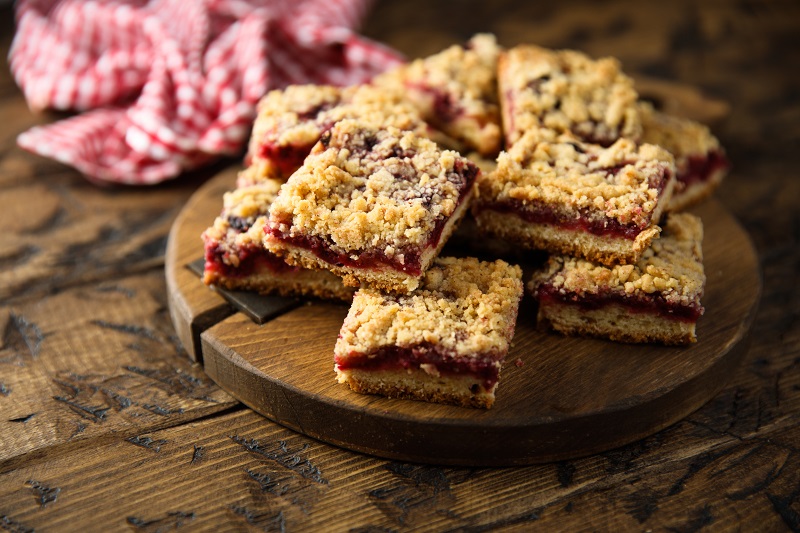 Streusel is a crumbly topping made from oats, flour, sugar that goes perfectly with pastries and other baked goods. Try our Berry streusel squares today using Ontario in season raspberries and strawberries!
Yield: 16 bars
Prep time: 10 minutes
Cook time: 35 minutes
Ingredients:
1 ½ cups steel-cut oats
1 ¼ cups flour
½ cup brown sugar
¾ cup butter, melted
¾ cup fresh raspberries, cut in quarters
¾ cup fresh strawberries, cut in quarters
½ cup berry jam (choose your preferred berry jam!)
1 tbsp flour
1 tbsp lemon peel
1 tsp lemon juice
¼ tsp ground cinnamon
Directions:
Preheat oven to 350°C. Line a 8X8 inch baking pan with parchment paper, or spray with non stick spray. Taste of Home recommends doing both techniques.
Cook steel-cut oats to package instructions. Remove 1 cup of cooked oats and set aside.
Combine rest of cooked oats, flour, sugar and butter. Mix together.
Press oat mixture into baking pan. Bake for 15 minutes until golden brown. Remove from oven, set aside and let cool to room temperature.
Using a medium bowl, combine jam, raspberries, strawberries, lemon peel, lemon juice, flour and cinnamon. Mix gently and spread over oat crust.
Spread 1 cup cooked oats over berry spread. Cook in oven for 20 minutes or until golden brown.
Let cool, and serve as is, or with a side of ice cream, whip cream and fresh berries.