Miso, red pepper, and mushroom fettucine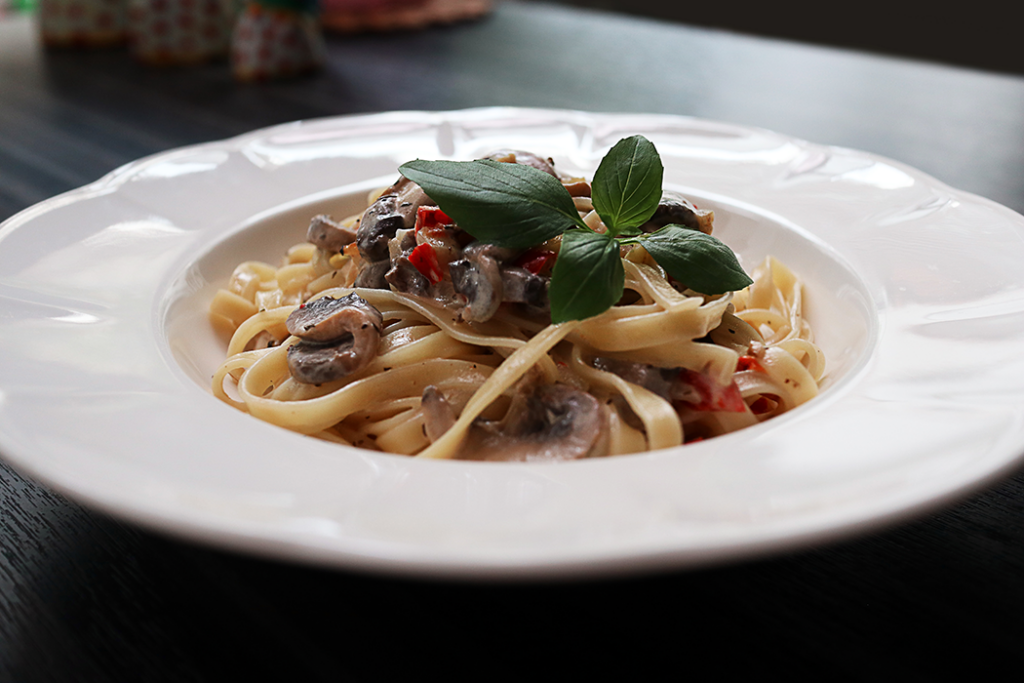 Miso paste is a traditional Japanese seasoning made from fermented soybeans, salt, and koji and is a great flavour booster to use in cooking! Try our take on using miso paste with this miso, red pepper, and mushroom fettucine for dinner.
Yield: 4 servings
Prep time: 10 minutes
Cook time: 20 minutes
Ingredients:
2 cups fettucine pasta
1 cup mushrooms, sliced
1 cup red peppers, diced
Basil for garnish
2 1/2 tablespoons vegetable oil
3 tablespoons white miso paste
6 tablespoons butter, softened (for miso sauce)
2 tablespoons unsalted butter, softened. (for cooking mushrooms and peppers)
1/4 teaspoon of garlic
1/4 teaspoon oregano
Pinch salt
Pinch black pepper
Directions:
Fill a large pot with water and place on high heat on stovetop. Bring to a boil.
While water is boiling, add mushrooms and two tablespoons of unsalted butter to a hot, large skillet. Sauté them until brown on each side, remove from heat and place aside.
Add red peppers to skillet, fry until tender, remove from heat and place aside.
While vegetables are cooking, whisk white miso paste and six tablespoons butter together until a smooth paste is formed. Add garlic and oregano. Mix well with paste.
Once water has boiled, add fettucine pasta to large pot, boil uncovered until tender. Remove from heat and drain.
In a medium saucepan, add vegetable oil, mushrooms, peppers, miso paste and bring sauce to a boil, stirring gently. Add cooked fettucine pasta, stir until well coated and remove from heat.
Sprinkle pinches of salt and black pepper, garnish with fresh basil, portion into four servings, and serve.
Enjoy!