Maggie Frith's Apple Galette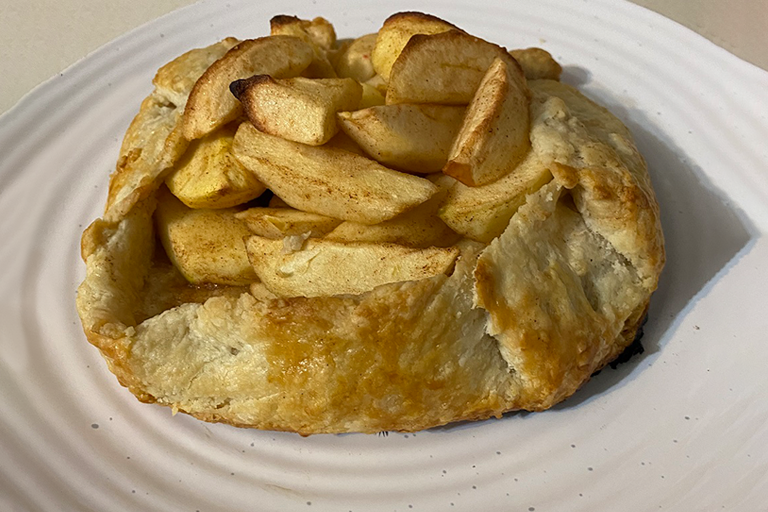 Nutrition for Learning hosted Good Eats this previous week, where attendees to Maggie Frith's (from The Magpie Cakery) virtual baking class baked together! Maggie and the team at Nutrition for Learning taught us how to create and have fun making an Apple Galette using local ingredients, like Ontario wheat flour. As Maggie said, baking is so cool! It's like science and art coming together. Try your hand at making an Apple Galette following Maggie's direction below!
Yield: 4 servings
Prep time: 3 hours
Cook time: 1 hour
Ingredients:
For galette dough
1 1/2 cups (195 grams) all-purpose flour
1 tablespoon granulated (white) sugar
1/2 tsp table salt 1/2 cup (115 grams) unsalted butter, (very cold!) and cut into 1-inch cubes
3 to 5 tablespoons ice water
For filling
6 apples, mixed variety (e.g., Macintosh and Granny Smith), peeled, cored and sliced 1/4- inch thick
1/3 cup (67 grams) granulated (white) sugar
3/4 teaspoon cinnamon
A pinch of salt
1 tablespoon lemon juice
1 lemon zest
1 tablespoon (14 grams) unsalted butter, cold and cut into 1/4-inch cubes
For assembly
Turbinado sugar (or other coarse sugar) for sprinkling
1 egg and splash of milk (for egg wash)
Equipment needed
Mixing bowls.
Measuring cups and spoons.
Pastry brush or silicone brush – Any kind of kitchen brush will work!
Sharp knife.
Dinner fork.
Spatula and whisk.
Vegetable peeler – or a paring knife will do the trick.
Parchment paper – not wax paper.
Aluminum foil.
Baking sheet – like a cookie sheet.
Freezer space for baking sheet.
Oven mitts.
Wire cooling rack.
Pastry cutter – you can also use two butter knives.
Lemon juicer – you can also squeeze with your hands or use a fork to help!
Directions:
For galette dough
Whisk together the flour, sugar and salt in a large bowl.
Scatter the cubed butter over top of the flour mixture. Fluff the mixture together with your hands to evenly coat butter with flour.
Using fingertips, two butter knives or a pastry cutter, cut the butter into the flour until the mixture looks like crushed crackers and peas. Work quickly so as not to melt the butter.
Sprinkle 4 tablespoons ice water over mixture and toss until evenly distributed.
Dough should hold together when pinched. If dough appears dry, add extra 1 tablespoon of water.
Turn mixture out onto your work surface and form into a rough rectangular pile. Using heel of one hand, smear the dough (about 2 to 3 tablespoons-worth at a time) away from you against the surface of the countertop. Continue until all the "dough" from the pile has been blended together.
Form into a disk (about 1-inch thick) and roll out to a 12-inch circle between two pieces of parchment paper (the dough should be approximately 1/8th of an inch thick). Trim edges with tip of sharp knife to create a neat circle. Slide dough (still between parchment paper) onto baking sheet and place in freezer while prepping filling, approximately 15 minutes.
For apple filling
Peel and slice each segment of apple into 1/4-inch-thick pieces. Combine apples, sugar, cinnamon, salt, lemon juice/zest in a large bowl and set aside.
Once dough is firm, remove from freezer and place on parchment-lined baking sheet.
Begin stacking and overlapping apple slices in a circle, leaving a 2 1/2-inch border of dough.
Continue until you have a 4-slice high wall of apples. Transfer remaining apples (and up to 3 tablespoons of accumulated juices) to centre of ring of apple slices, arranging as desired, and dot with 1/4-inch cubed butter.
Once dough is pliable, fold outer 2 inches of dough over fruit, pleating dough, as needed. Carefully pinch pleated dough and place in freezer until firm, about 30 minutes.
At this point, pre-heat your ovens to 375 degrees F. with the rack in the lower middle position.
Once firm, brush galette lightly with egg wash (1 egg, beaten, mixed with a splash of milk) and sprinkle with turbinado sugar.
Bake until crust is golden brown and juices are bubbling, about 50 to 60 minutes, rotating baking sheet halfway through baking. If crust is browning, cover loosely with aluminum foil. Let cool on wire rack until set, about 2 hours.
Serve an enjoy!
Watch the virtual baking class with Maggie as she walks us through how to make an Apple Galette and, answers questions from the audience.