Top Three Air Fryer Recipes

Did you or someone you know get an air fryer over the holidays? If you're looking for some recipes to try in your air fryer, check out our top three air fryer recipes that are made using Ontario grains!
Air Fryer Chicken Breast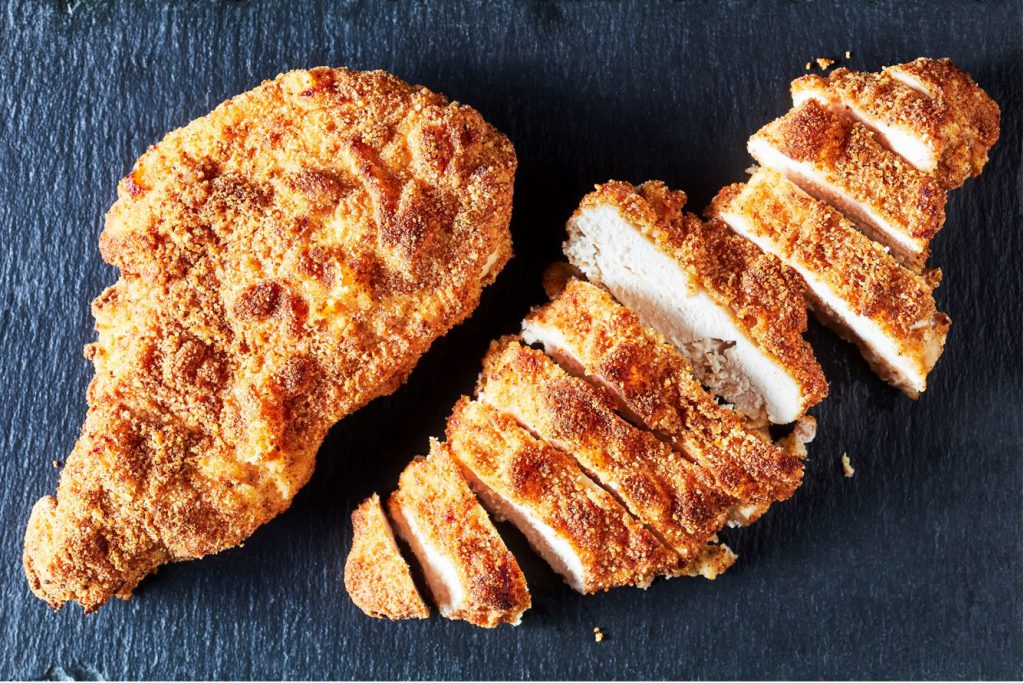 First on the list, is an easy, tender and juicy recipe for a healthy alternative to friend chicken made with breadcrumbs from the creative chefs at Little Sunny Kitchen! Did you know that most breadcrumbs contain both wheat and soybean flour?
Yield: 4 servings
Prep time: 10 minutes
Cook time: 20 minutes
Ingredients
2 large boneless, skinless chicken breasts, sliced into cutlets
1 tbsp vegetable oil
1/2 cup dried bread crumbs
1/2 tsp paprika
1/4 tsp dried chili pepper
1/4 tsp ground black pepper
1/4 tsp garlic powder
1/4 tsp onion powder
1/4 tsp cayenne pepper
1/2 tsp salt
Directions
Place chicken breasts in a bowl and drizzle with oil, toss until evenly coated.
In a shallow dish, mix dried breadcrumbs and spices until well combined.
Coat each chicken breast in breadcrumb mixture, and transfer to basket of the air fryer.
Fry in the air fryer at 390°F or 200°C for 10-12 minutes. After the first 7 minutes, open the air fryer and flip the chicken on the other side then continue cooking (cook for 3 minutes, depending on the size of the chicken breast used).
---
Air Fryer French Fries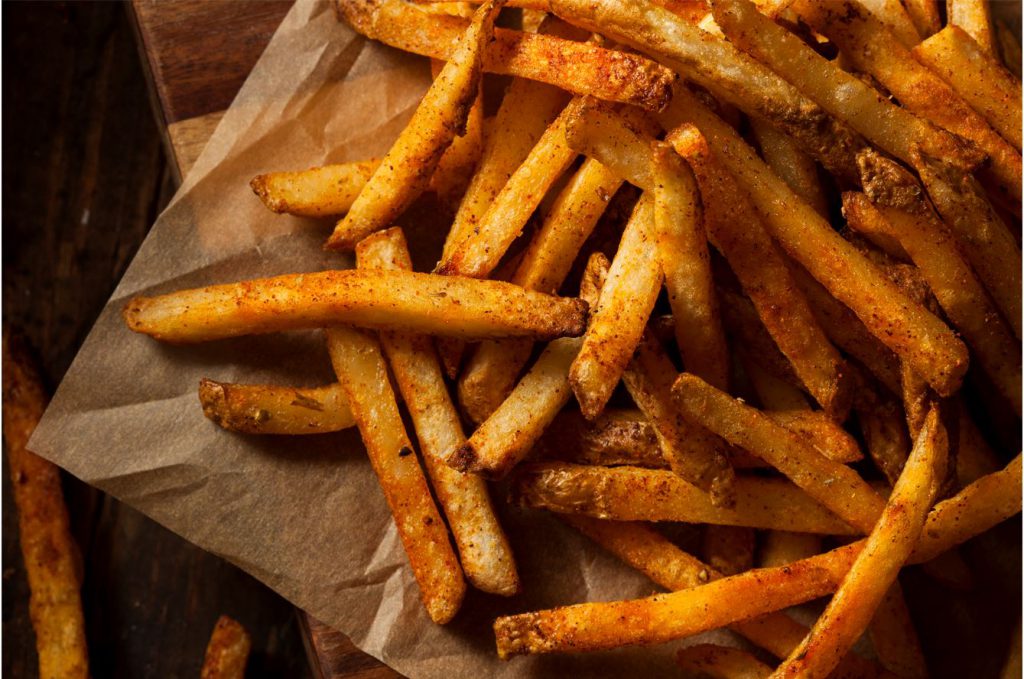 What's better than a fresh, crispy and crunchy fries? Fresh, crisp and crunchy fires that use less oil than traditional fried fries! Check out this recipe for Air Fryer French Fires by the chefs at Eating Well.
Yield: 4 servings
Prep time: 35 minutes
Cook time: 30 minutes
Ingredients
2 large Russet baking potatoes
2 1/2 tbsp corn oil
1 tbsp cornstarch
1/2 tsp coarsely ground black pepper
1/2 tsp salt
1/4 tsp paprika
Cooking spray
Directions
Scrub potatoes well. Cut the unpeeled potatoes lengthwise into 3/8-inch sticks. Place in a large bowl; cover with water and let stand for 30 minutes. Drain well and pat very dry. Return to the dried bowl; add oil and toss to coat. Sprinkle with cornstarch, pepper, salt and paprika; toss to coat.
Coat the basket of an air fryer with cooking spray. Place the potatoes in the basket and coat the potatoes well with cooking spray. Fry at 360°F or 182°C, stirring every 5 minutes, until very crispy, 25 to 30 minutes.
---
General Tso's Chicken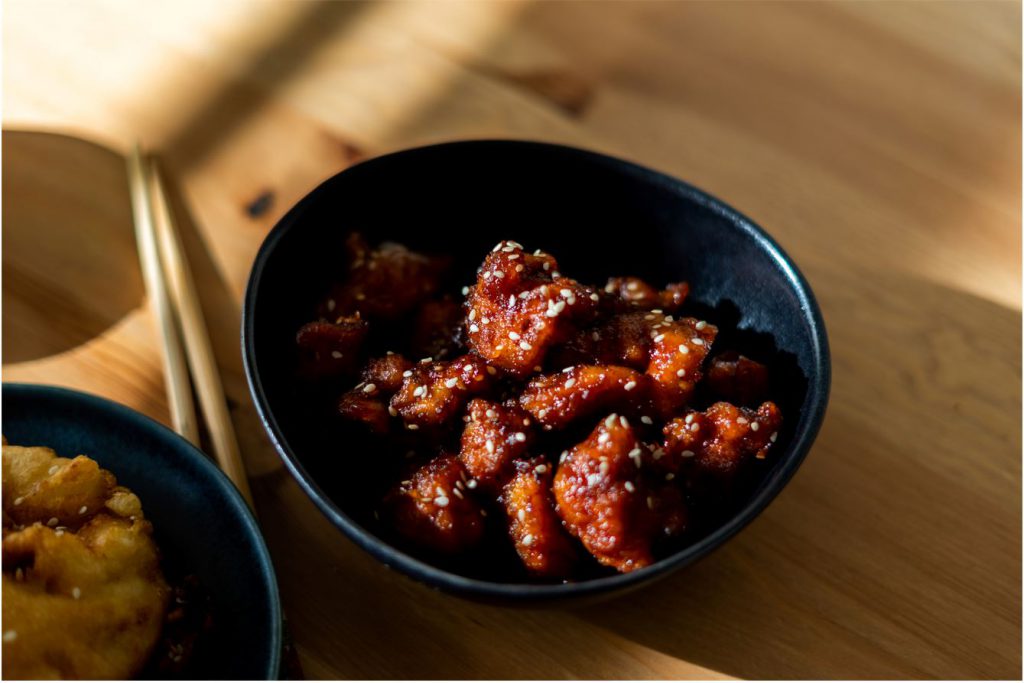 In the mood for some at home Chinese takeout? Look not further than this recipe from Cooking Light for General Tso's Chicken that can be easily made in the air fryer.
Yield: 4 servings
Prep time: 20 minutes
Cook time: 15 minutes
Ingredients
1 large egg
1 lb boneless, skinless chicken thighs, patted dry and cut into 1 to 1 1/4-inch chunks
1/3 cups plus 2 tsp cornstarch, divided
1/4 tsp salt
1/4 tsp ground white pepper
7 tbsp lower sodium chicken broth
2 tbsp lower sodium soy sauce
2 tbsp ketchup
2 tsp sugar
2 tsp unseasoned rice vinegar
1 1/2 tbsp vegetable oil
3-4 chiles de arbol, chopped and seeds discarded
1 tbsp finely chopped ginger
1 tbsp finely chopped garlic
2 tbsp thinly sliced green onion, divided
1 tbsp toasted sesame oil
½ tsp toasted sesame seeds
Directions
In a large bowl, combine beaten egg and chicken, toss and coat well. In another bowl, combine 1/3 cup cornstarch with salt and pepper. Transfer chicken with a fork to cornstarch mixture and stir with a spatula to coat evenly.
Transfer chicken to air-fryer oven racks (or fryer basket, in batches), leaving a little space between pieces. Preheat air-fryer at 400°F for 3 minutes. Add the battered chicken; cook for 12 to 16 minutes, giving things a shake midway. Let dry 3 to 5 minutes. If chicken is still damp on one side, cook for 1 to 2 minutes more.
Whisk together remaining 2 teaspoons cornstarch with broth, soy sauce, ketchup, sugar, and rice vinegar. Heat canola oil and chiles in a large skillet over medium heat. When gently sizzling, add the ginger and garlic; cook until fragrant, about 30 seconds.
Re-whisk cornstarch mixture; stir into mixture in skillet. Increase heat to medium-high. When sauce begins to bubble, add chicken. Stir to coat; cook until sauce thickens and nicely clings to chicken, about 1 1/2 minutes. Turn off heat; stir in 1 tablespoon green onion and sesame oil. Transfer to a serving plate, and top with sesame seeds and remaining 1 tablespoon green onion.