Tomato, basil and garlic whole wheat pasta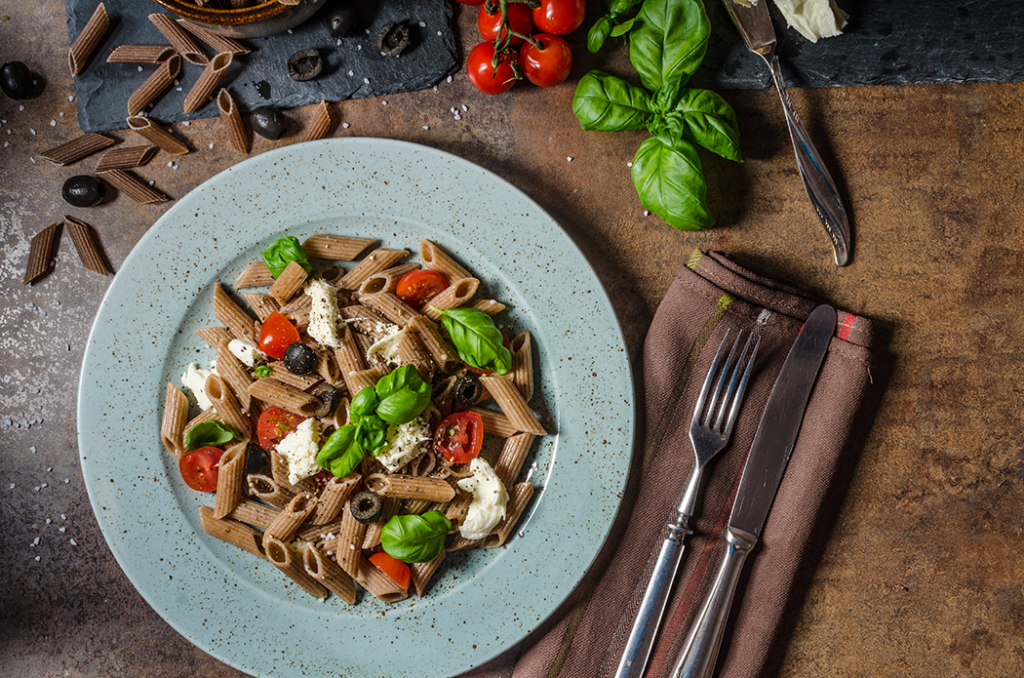 Tomato, basil and garlic whole wheat pasta is a simple yet classic Italian pasta that makes the most of local tomatoes, basil and garlic! Using whole wheat pasta can help your family benefit from the health benefits that whole wheat pasta has to offer. Make this as a lighter dinner option or the perfect addition to a barbequed meal!
Yield: 6 servings
Prep time: 10 minutes
Cook time: 15 minutes
Ingredients
¼ cup olive oil
1 shallot, diced
¼ tsp salt (more to taste)
4 roma tomatoes, diced
4 garlic cloves, mined
Pepper, to taste
1 handful fresh basil, chopped
1 (12 ounce) package of whole wheat pasta of your choice, we recommend using whole wheat penne
Toppings:
Fresh basil leaves
½ cup feta cheese, crumbled
½ cup black olives, halved
Directions
Bring a large pot of water to a boil. While water is heating, heat a large skillet over medium heat. Add olive oil, shallots, and salt, cook for 2 minutes. Add tomatoes, garlic, salt and pepper to taste, cook for 8-9 minutes until tomatoes are soft. Remove from heat and stir in basil.
Add whole wheat pasta to boiling water and cook as per package instructions. Once cooked, drain and add to skillet and toss with the sauce. Top with fresh basil leaves, feta cheese and black olives. Serve immediately to enjoy warm or can be served and enjoyed at room temperature.