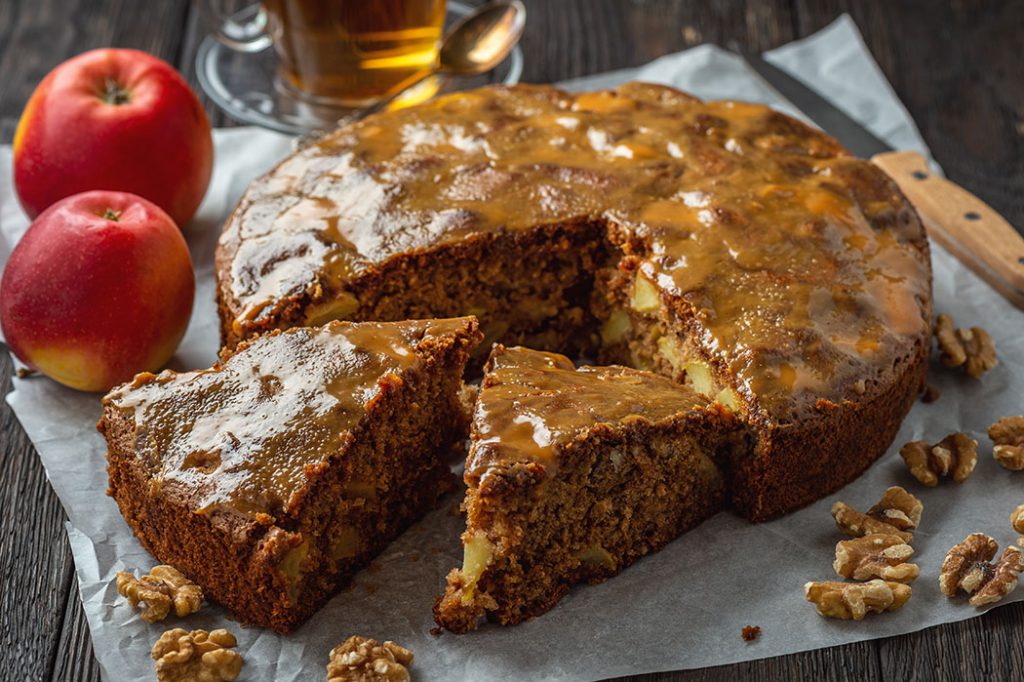 Combine the sweetness of Ontario apples, the sweetness of local Ontario honey and the goodness of Ontario grains and you get oatmeal apple honey cake: one decadent dessert! This Oatmeal apple honey cake is amazingly moist and is sure to be a new family favourite.
Yeild: 5 servings
Prep time: 10 minutes
Cook time: 50 minutes
Ingredients
Cake:
1 cup quick-cooking oats
1 cup water
1 ½ cup all-purpose flour 
2 tsp cinnamon
¼ tsp nutmeg 
1 tsp baking soda
½ tsp salt 
1 ¼ cup brown sugar, packed 
¾ cup (about 1 medium) Ontario apple, peeled and roughly chopped 
⅓ cup Ontario honey  
2 large eggs
Frosting:
1/4 cup unsalted butter
1/3 cup brown sugar, packed
1/4 cup honey
1/2 cup walnuts, coarsely chopped
Directions
Preheat the oven to 350°. Grease and line an 11×7″ baking dish with parchment paper.
In a small bowl, stir the oats and water together. Set aside.
In a medium bowl, combine the flour, cinnamon, nutmeg, baking soda, and salt.
In a stand mixer bowl, combine the brown sugar, apples, honey and eggs. Beat on high speed for one minute. Pour in the oats mixture and beat on low until well blended.
With the mixer still on low, add half of the flour mixture and beat well. Add the remaining mixture and mix until just combined.
Remove the bowl from the stand and stir the batter to make sure flour from the bottom of the bowl is mixed in.
Pour the batter into the prepared baking dish and bake for 40-45 minutes until a toothpick comes out with just a few clinging pieces of cake. Remove baking dish and cool on a rack. Set the oven to Broil.
A few minutes before removing the cake from the oven, start cooking the topping. In a heavy-bottom pan, melt the butter. Add the brown sugar and honey. Stir and cook for about 2 minutes, until bubbling. Stir in the coarsely-chopped walnuts.
When the cake is removed from the oven, pour the topping evenly over the cake. Place the cake under the broiler for about 45 seconds to 1 minute, until the top is bubbling (watch carefully). Remove from the oven and cool the cake completely on a wire rack.
Serve cooled oatmeal apple honey cake with a dollop of whipped topping and sprinkle lightly with cinnamon if desired.
Recipe inspired by My Recipe Reviews.