Strawberry rhubarb crumble pie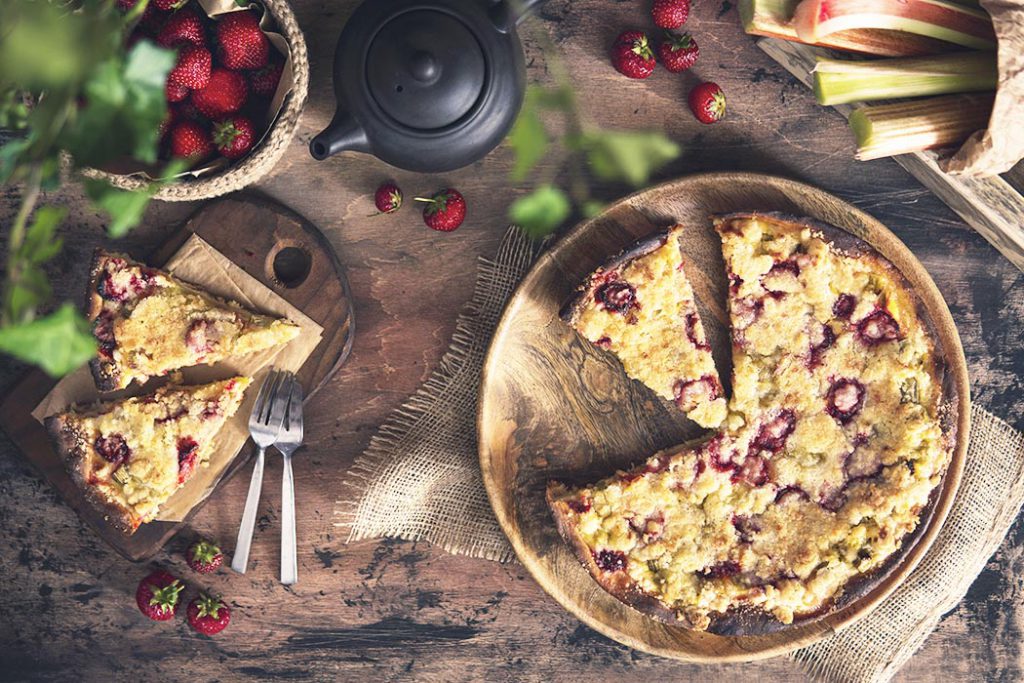 Hello May! This is the perfect time to make Strawberry Rhubarb Crumble Pie using fresh and local Ontario field strawberries and Ontario rhubarb! Did you know, Ontario field strawberries are in season this month and rhubarb is in season until June? Combine these two fresh Ontario fruits and the goodness of Ontario oats to get a tasty spring dessert!
Yield: 8 servings (1 pie)
Prep time: 30 minutes
Cook time: 50 minutes
Ingredients
Filling
1 ½ cups rhubarb, chopped into 1-inch pieces 
4 cups strawberries, hulled and quartered
1 lemon, juiced
½ cup granulated sugar 
3 tbsp cornstarch
Pinch of salt
Topping
¾ cup all-purpose flour 
½ cup brown sugar, packed 
2 tbsp granulated sugar
½ tsp baking powder 
Pinch of salt
½ cup unsalted butter, cut into ½-inch cubes 
¾ cup rolled oats 
You will also need 1 pie crust – store bought or homemade! We like this homemade one from Sally's Baking Addiction.
Directions
Place rack in the middle of the oven, and preheat to 375°F. In a large bowl, toss the rhubarb, strawberries, lemon juice, granulated sugar, cornstarch and salt. Toss until fruit is evenly coated. Set aside.
In the bowl of a food processor, combine flour, both sugars, baking powder and salt. Process until well combined, about 30 seconds. Add the cold butter and pulse until topping resembles coarse crumbs with small clumps of butter. Transfer to medium bowl and stir in oats. Set aside.
Place pie crust in a 9×2-inch pie dish. Tuck it in with your fingers, making sure it is smooth. Spoon the filling into the crust, leaving all excess liquid in the bowl. Cover the filling thickly with the topping.
Place pie dish on a foil-lined baking sheet. Bake for 40-50 minutes, until the topping is golden brown, and the fruit begins to bubble. Let rest at least 15 minutes. Serve warm with vanilla ice cream or whipped cream and enjoy!
---
Watch how we made this Strawberry rhubarb crumble pie:
---
#TrainWithGrainTip: Want to keep your leftovers fresh? Store fruit pies covered with plastic wrap or foil at room temperature for up to two days or in the refrigerator for up to four. They can also be put into the freezer! Place uncovered in freezer until frozen solid, then wrap in plastic wrap for up to four months in the freezer. Thaw at room temperature and reheat pie until warm to re-eat!