An update from the field: April 2021 edition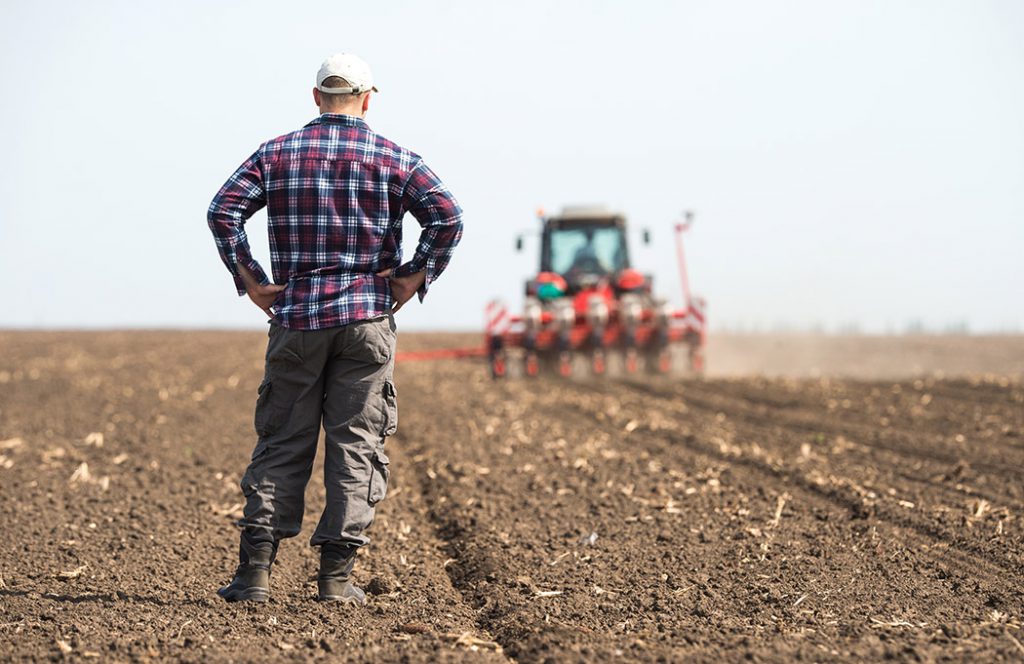 Interview conducted by Caitlin Kroetsch, Communication Coordinator Co-op with Grain Farmers of Ontario, who is in her 4th year of Food and Agriculture Business at the University of Guelph.
Recently, I sat down with the new chair of Grain Farmers of Ontario, Brendan Byrne, to ask him what farmers have been up to in the fields over the past few weeks.
Byrne lives in Essex County, close to the town of Essex with his wife and two teenage kids. He has an honours Business and Economics degree from the University of Windsor. Farming was not part of Byrne's initial plan, but he began to get more involved in his family farm and was then asked to take over the family business. He is now involved in many different organizations across Ontario and is a huge advocate for Ontario agriculture. Learn more about Byrne here.
As the snow begins to melt, farmers can get a better idea on their field conditions and decide what field work will need to get done for spring. In Essex County, snow melted in in mid-March and as the fields began to dry up it became evident to Byrne that the fields are generally in good condition throughout Essex county and on average, throughout Ontario.
Due to the favorable weather and field conditions Ontario grain farmers have been able to get into their fields and have been able to begin to apply nitrogen to their winter wheat (click here to learn more about winter wheat).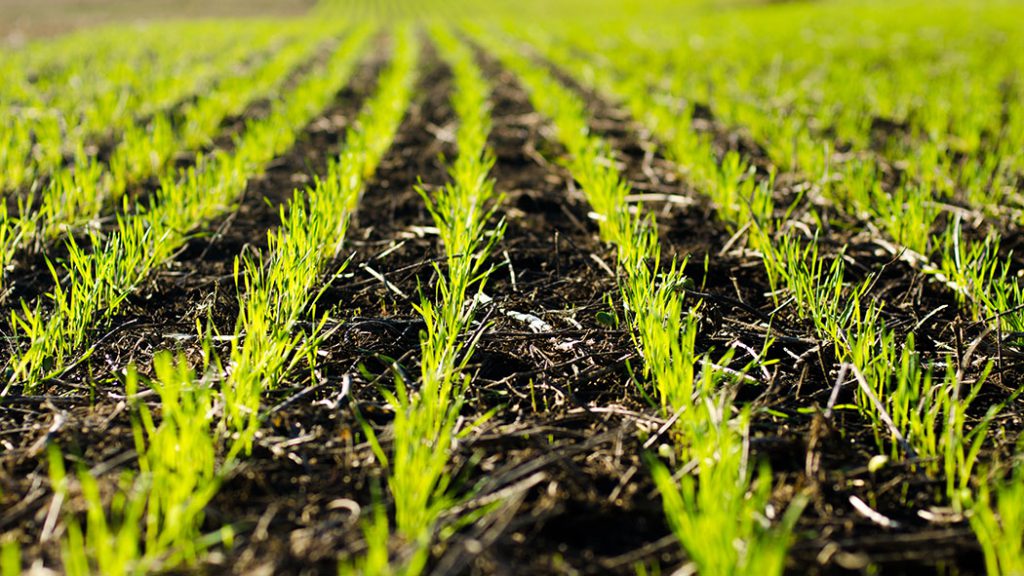 "Some farmers might have planted their winter wheat crop a little later than others. So, they're using nitrogen to feed the crop and get it growing as soon as possible" says Byrne.
Nitrogen is one of the elements that are found in fertilizers that farmers apply to their crops. Fertilizers are applied when growing crops need them- this is how they get their food or nutrients to grow. Learn more about fertilizer here!
"Farmers try to get the best potential crop out of their winter wheat" adds Byrne "so they'll put a little bit of nitrogen at the beginning, then come back to it once the sun's out and it's a little more reliable weather and we're warming up and get it on its way."
Byrne goes on to state that other farmers planted their wheat during a preferable time period in the fall and can see that the wheat coming out of the ground is already off to a good start. These farmers will skip the early application of nitrogen and will wait for more predictable weather conditions before they apply more fertilizers. Farmers will apply what is needed, to reduce the chance of over applying and hurting a crop, or having it leak away from the fields.
Byrne says that applying nitrogen to crops "is kind of like gardening, if people are growing tomatoes, they may apply some nitrogen (or plant food) around the tomato plant at the start and then maybe a second feeding once it gets going." This is to make sure that "the tomatoes have the nutrients they need to get the best possible crops"; grain farming is just like that says Byrne.
Additionally, farmers are beginning to clean up their fields to prepare for spring planting by knocking down residual corn stocks from last fall and using their tractors to clean up the edges of their fields.
Harvest tends to happen in later fall months and due to potentially adverse weather conditions, fields may not be left in the best of conditions before the cold begins to set in. Farmers are taking the time to clean up the mess from last fall in order to prep their fields for this year's plant.
But all farmers have their preferences for when they like to head out into the field and what they wish to do in the field. Some farmers will be using big disks to clean up areas of the fields (this process is called tillage; learn more about tillage here), some farmers practice no till and will go through the field as a general clean up, while others just quickly touch up their field to level it out in preparation for planting.
But as it goes, all of this "go getter" spirit quickly came to a halt as "April showers" began at the end of March and farmers across Ontario were hit with rain and seasonably cool temperatures.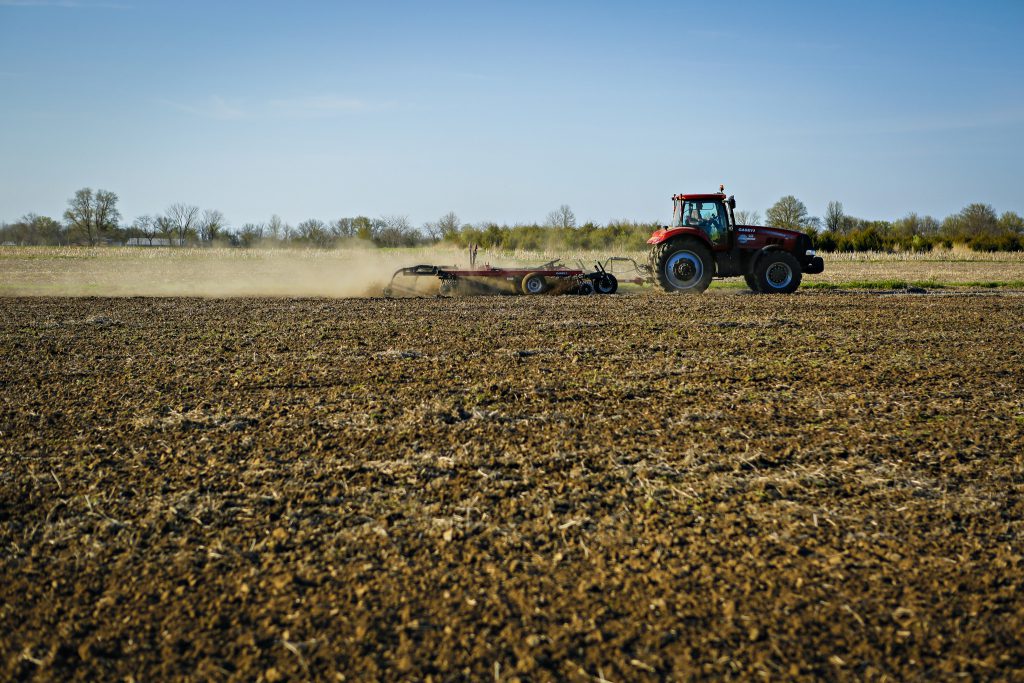 In certain areas in Ontario such as in Chatham and Lambton area, some farmers are beginning to plant peas and sugar beets says Byrne. Byrne adds that some farmers in Ontario have been planting sweet corn "so farmers can space it out, to make sure Ontario consumers have sweet corn for the whole summer." Click here to learn more about the different types of corn grown right here in Ontario.
Weather is a huge factor in how, when, and even where field works gets done. In the Essex and Lambton Counties they saw wet and cool weather, whereas farmers in Central Parts of Ontario are dry and sunny, and fields are quickly drying up from the snow melt.

Byrne says that while driving through Ontario this April you can hopefully expect to see some corn being planted in the last week of April and into early May. "You can expect to see planting begin to ramp up during mid to late May, but that of course is all weather dependent" says Byrne. In the middle of April, you can expect to see some sprayers out in the fields cleaning up some of the weeds in preparation for spring planting, says Byrne. Spraying weeds before planting, helps gives the newly planted seeds a chance to grow. Weeds can quickly grow and overtake a field fighting with young grain plants for water, sunlight, soil space and nutrients from the soil. Removing those weeds early, give those planted grain seeds the best chance to start growing with no threats.
During the month of April, you can also expect to see some large farm equipment on the roads. "If you live in an area where there is farming going on, please be patient in the spring season with the larger farm equipment that may be using the road" says Byrne. "We would like to remind motorists or individuals on bicycles to be cognizant of the wide equipment and that farmers are doing their best to keep themselves and other motorists safe. So please be patient when you see farmers moving from field to field with large equipment" adds Byrne. Click here to learn more about road safety with farm equipment.