Oat and whole wheat bread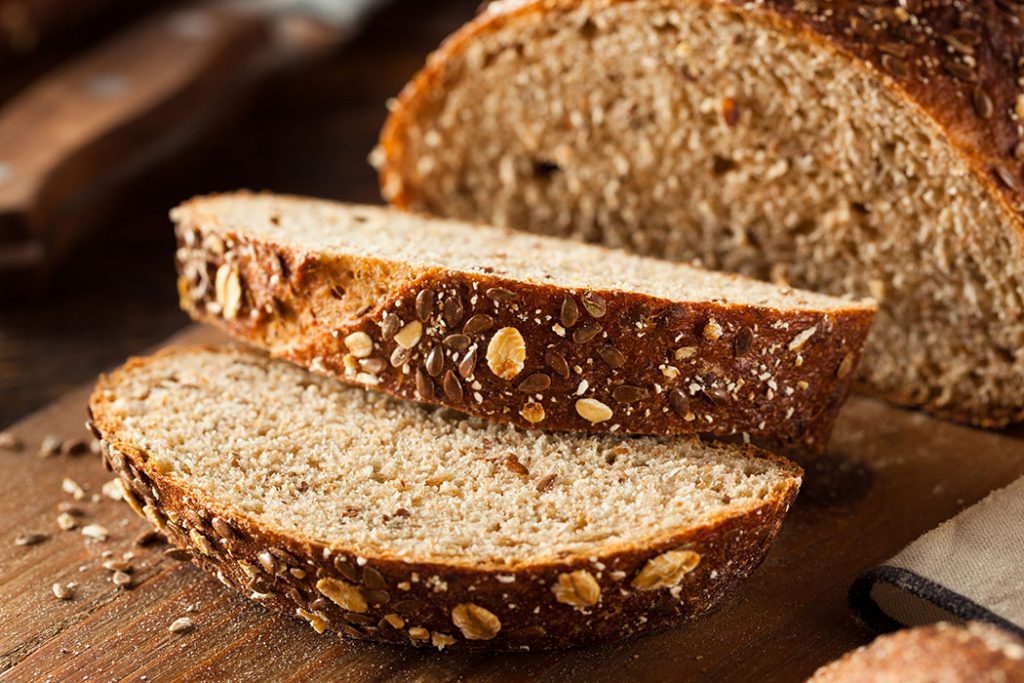 Eating whole wheat bread is a staple for many grain lovers, but have you tried to make your own? Our Oat and whole wheat bread recipe are extremely tasty and can keep for days after it is baked! Besides, what's better than the smell of fresh bread that seems to fill the room?
Yield: 2 loaves
Prep time: 30 minutes
Cook time: 5 hours and 25 minutes (approximately)
Ingredients
2 cups 2% reduced fat milk
1 (.25 ounce) package active dry yeast
1 ½ tbsp white sugar
2 ½ cups whole wheat flour
2 cups all-purpose flour, or as needed
½ cup oatmeal
1 ½ tsp salt
1 large egg, lightly beaten with 1 tbsp of water
Flax seeds (optional)
Directions
Heat milk in a saucepan over low heat until hot, do not let milk boil. Remove pan from heat and let stand, stirring occasionally until cooled to warm, about 2-3 minutes.
Sprinkle the yeast overtop and let stand until the yeast softens and begins to form a creamy foam, about 5 minutes; stir in the sugar. (If no foam, discard and start over with new yeast)
Whisk the whole wheat flour, all-purpose flour, oatmeal, and salt together in a mixing bowl. Make a well in the center and pour the milk mixture into the well. Stir with a wooden spoon until soft dough forms. Turn the dough out onto a lightly floured surface and knead with floured hands until smooth and elastic, about 8 minutes.
Place the dough in a large, lightly oiled bowl and turn dough to coat with oil. Cover loosely with a light cloth and let rise at room temperature until doubled, about 1 hour to 1 ½ hours.
Grease 2 8×4-inch loaf pans. Turn out dough onto lightly floured surface and knead to remove air. Use a knife to divide the dough into two equal pieces. Shape into dough rounds and let rest for 10 minutes. Form the dough into loaves and place into the prepared pans, with seam side down. Tuck ends gently to fit. Cover loaf pans with a damp cloth and let rise in a draft-free location, until doubled in volume, about 40 minutes.
Preheat an oven to 350 degrees F (175 degrees C). Lightly brush tops of loaves with some of egg wash and sprinkle with oats and flax seeds (if desired).
Bake in the preheated oven until the top is golden brown and the bottom of the loaf sounds hollow when tapped, 30-35 minutes. Cool in the pans for 5 minutes before turning out onto a wire rack to cool completely, about 1 ½ hours.
#TrainWithGrainsTip: This recipe for Oat and Whole Wheat Bread should keep for approximately four days. Keep bread covered at room temperature.