Cranachan Scottish dessert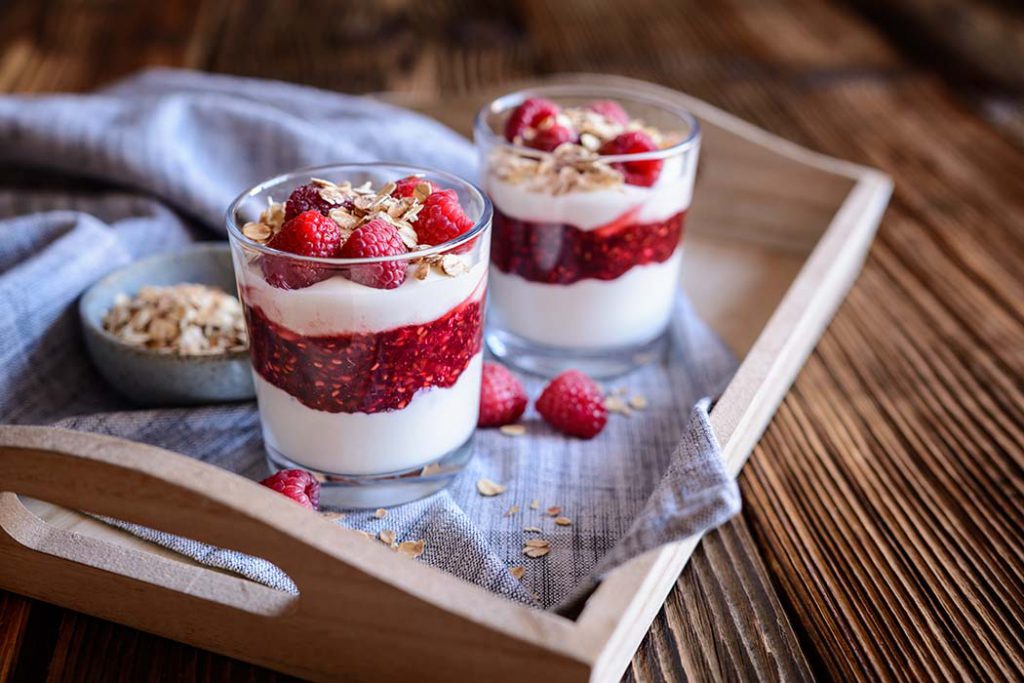 Cranachan is a traditional Scottish winter dessert made using oatmeal, raspberries and Ontario corn whisky if desired! Enjoy this tasty dessert this holiday season.
Yield: 6 servings
Prep time: 5 minutes
Cook time: 10 minutes
Ingredients
⅓ cup steel-cut oats
2 cups fresh raspberries
2 cups heavy cream
1 tbsp honey
2 tsp sugar
Optional: 3 tbsp of Ontario corn whisky
Directions
Heat a large frying pan on the stovetop, over medium-high heat.
Toast oats, by adding them to a frying pan and stir continuously until they are just golden brown and have a light nutty smell. Be careful- oats left unattended can burn quickly. Once toasted, remove immediately from the pan.
Remove a few raspberries and add to a small mixing bowl or food processor. Crush or blend raspberries into a thick puree. Add sugar, and whisky if desired to raspberries. Mic well and set aside,
In a separate bowl, whip the cream until it thickens. Add honey and continue to whip until stiff peaks form, then gently fold in toasted oats and stir well.
To serve, layer dessert into a large serving bowl or individual glasses. Layer spoonful of raspberries to cover the bottom of the glass, then add a spoonful of the cream and oatmeal mixture. Repeat until you reach the top of the glass. Top with a whole raspberry.
Refrigerate until ready to eat, serve chilled.
#TrainWithGrainsTip: Cranachan Scottish Dessert is best served soon after made to keep texture and flavour. Make an hour or two before you plan on eating and keep in the fridge until then!