Holiday cocktail with Ontario grains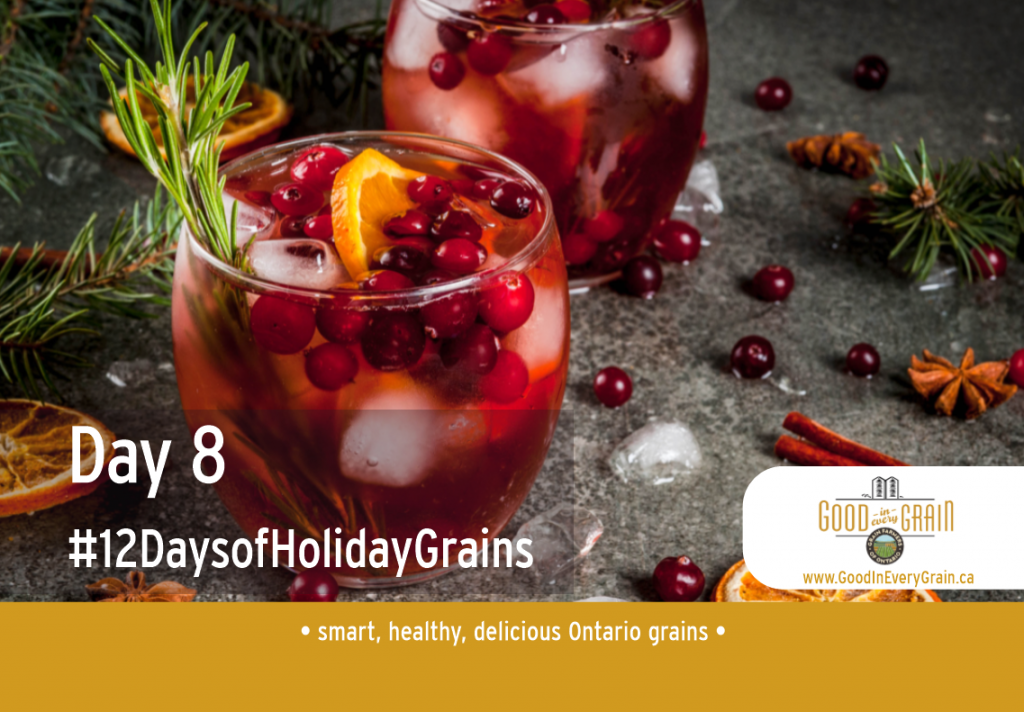 Day 8 of #12DaysofHolidayGrains Countdown!
All week we've been posting recipes and crafts for the whole family. This one is just for our adult readers over the age of 19! Holiday parties and family events book up the holiday season and usually involve some holiday cocktails. We've prepared a recipe for a festive drink that uses Ontario Grains…yes we said grains in a drink! Enjoy this grain based, whiskey holiday cocktail!
This recipe we'll make you look like a barista, without much work! Not to mention it tastes great! We made ours with a spiced whiskey but feel free to sub out whiskey for a different spirit, or even try it non-alcoholic! The great thing about this recipe is that is can be adjusted. If someone prefers their cocktails less sweet, add less simple syrup! If someone doesn't like cinnamon or spice, use a non-spiced whiskey! You also get to choose the garnish!
Looking for more recipes? Subscribe to our Good in Every Meal newsletter! Every month, we'll feature a recipe that uses Ontario grains, plus tips and tricks on how to incorporate healthy whole grains into your lifestyle.
What really makes this holiday cocktail festive is adding a rosemary simple syrup. Although it may seem daunting, its actually very easy to make! Just follow the simple instructions below! We also found this easy how to video to make regular simple syrup, just add rosemary at the end!
Ingredients:
1/2 oz Cranberry Juice
1/2 oz Lime Juice
3/4 oz Rosemary Simple Syrup (see instructions below)
1 oz Ontario made Spiced Whiskey
Options for Garnish

Orange Slice
Frozen Cranberries
Rosemary Sprig
Cinnamon Stick
Directions:
Make your own rosemary simple syrup

Bring 2 cups of water to boil
Stir in 2 cups of sugar until dissolved
Add fresh rosemary leaves
Allow to simmer for 10 minutes
Remove rosemary and move to storage container of choice
Allow to cool

Mix ingredients well in a cocktail shaker and pour over ice
Add garnish of choice and enjoy
This recipe is for adults over the age of 19. Please enjoy responsibly.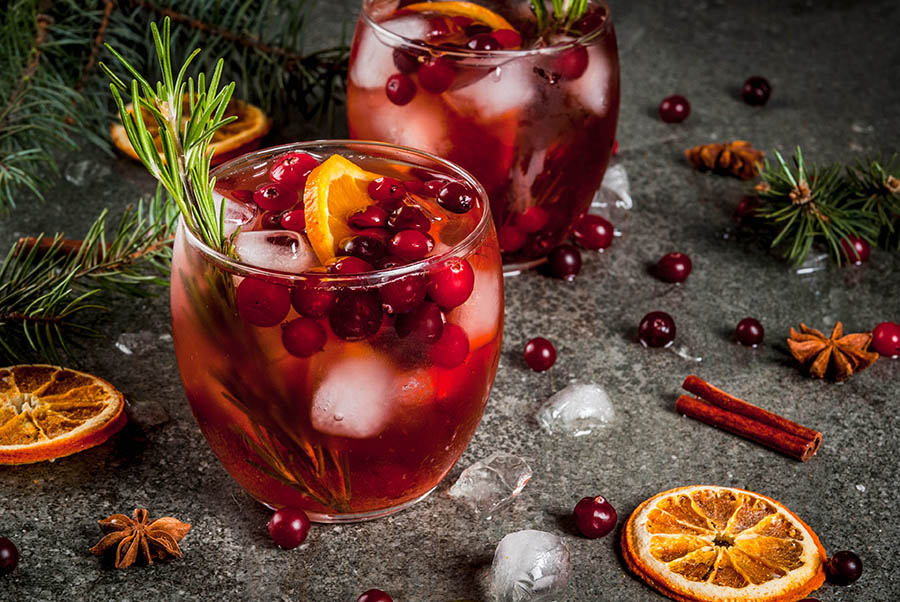 Ontario Spirits
Did you know that a lot of spirits and beverages are actually made out of grains grown here in Ontario. Grains like corn, wheat and barley are commonly fermented and made into adult beverages. The process of turning grains into beverages involves letting the grains soak in warm water and produce vapors! Alcohols like whiskey, vodka and gin are now commonly made out of Ontario grains!
Can shopping local include alcohol?
Absolutely! Ontario is home to many distilling companies that source Ontario Grains as an ingredient! For more information and to see what local brands to shop this holiday season, check out Spirits Canada or ask for local products at the liquor store. Check out this list of a few Ontario Distillers you can support this holiday season!
J.P Wiser's is distilled in Windsor, Ontario
Forty Creek Whiskey is distilled in Grimsby, Ontario
Collingwood Whiskey is distilled in Collingwood, Ontario
Willibald Gin is distilled in Ayr, Ontario
Dixon's Distilled Spirits are distilled in Guelph, Ontario
King's Lock Craft Distillery is located in Johnstown, Ontario
Ontario is actually Canada's largest producer of corn, so if a company sources Canadian corn, it's most likely from Ontario!
Don't forget about your Ontario craft brewers either! Many use Ontario barley and wheat in their beverages! Great Gift Idea!
Follow along with the rest of our #12DaysofHolidayGrains for more recipes and crafts!