Savoury cornbread and chive stuffing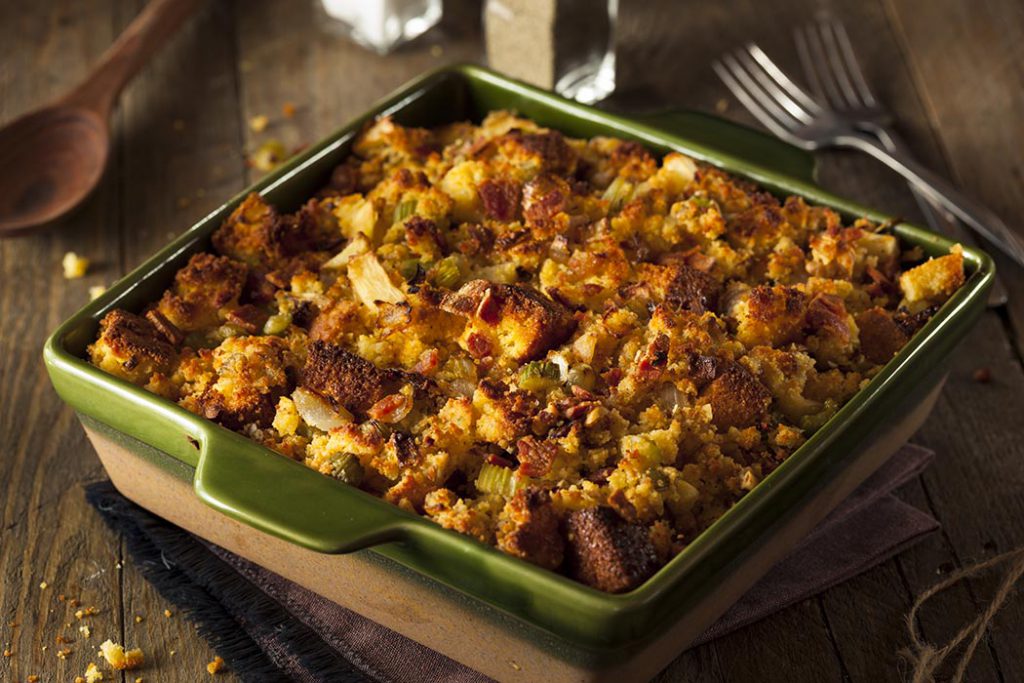 Savoury cornbread with chives stuffing is a great recipe that takes a different spin on the traditional stuffing. Spice it up with the combined savoury flavours of chives, parsley and thyme!
Yield: 8 servings
Prep time: 30 minutes
Cook time: 45 minutes
Ingredients
1 cup cornmeal
1 cup all-purpose flour
1 tbsp baking powder
⅛ tsp cayenne pepper
3 tbsp sugar
1 egg, beaten
1 cup buttermilk
3 tbsp oil
2 tbsp minced chives
Savoury Cornbread with Chives Stuffing:
4 garlic cloves, minced
1 large onion, finely chopped
4 celery stalks, diced
1 tbsp parsley flakes
1 tsp dried thyme leaves
½ tsp sea salt
½ tsp coarse ground black pepper
2 ½ cups reduced-sodium chicken broth
2 large eggs
¼ cup unsalted butter
Directions
First, prepare cornbread:
Preheat oven to 400 degrees F.
In a bowl, combine the cornmeal, flour, baking powder, cayenne pepper and sugar. Stir in the minced chives.
Stir together the egg, buttermilk and oil in a separate bowl.
Add the egg mixture to the dry ingredients. Stir until combined.
Pour into the bread tin. Bake for 15 minutes or until done. Cool on a rack.
Then, you're ready to prepare Savoury Cornbread with Chives stuffing:
Once cornbread has cooled, slice into small cubes. Place aside.
Place a saucepan on medium-high heat on the stovetop and add minced garlic. Cook for up to 1 minute and then add onion, celery, parsley, thyme, salt and pepper. Cook until vegetables begin to soften.
Mix broth and eggs together in a large mixing bowl. Mix well and pour into the saucepan with vegetable and seasoning mixture. Remove from heat and place in a large mixing bowl.
Add cornbread cubes to the bowl and gently fold in.
Next, place stuffing into turkey cavity or bake in the oven, for 40 minutes in a greased baking pan covered with aluminum foil at 325 °F.
Serve warm and enjoy!