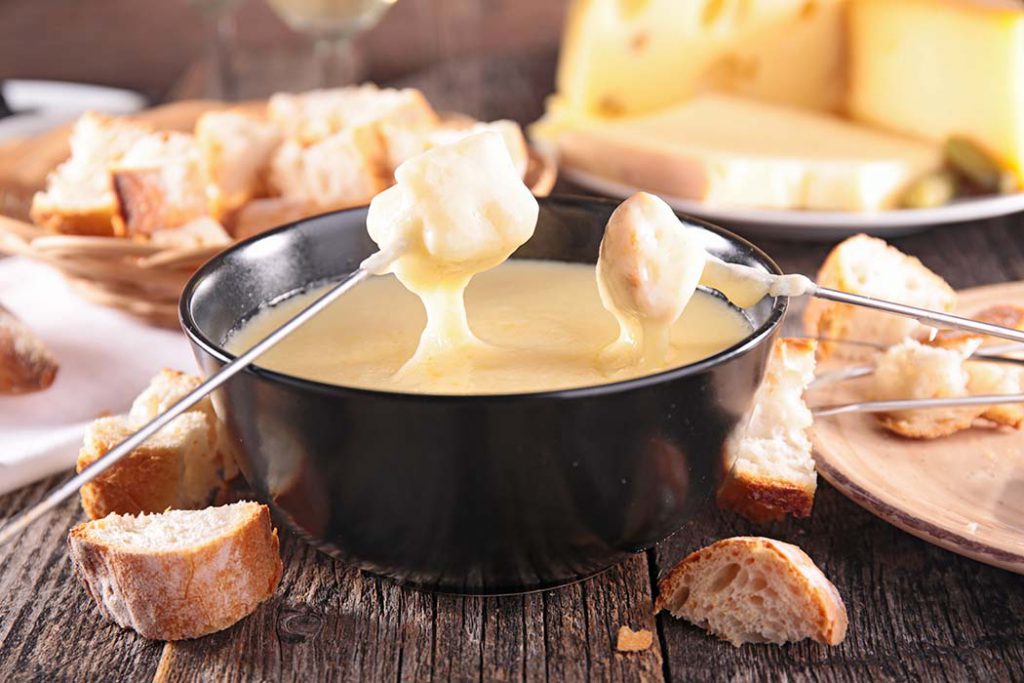 This Whisky cheese fondue recipe features the goodness of Ontario corn in the Ontario grain corn whisky that is added to a blend of 3 kinds of cheese. Perfect for a small family dinner or a holiday party this season. Try this gooey fondue with crusty bread or cut vegetables!
Yield: 8 servings
Prep time: 5 minutes
Cook time: 5 minutes
Ingredients
1-pound extra-sharp cheddar cheese, shredded
½ cup aged white cheddar, shredded
1/2-pound Monterey Jack cheese, shredded
2 tablespoons cornstarch
2 garlic cloves, halved
1 cup dry white wine
3 tablespoons Ontario corn whiskey
Salt and freshly ground pepper
For dipping:
Crusty bread
Bread sticks
Crackers
Cut and washed raw vegetables of your choice!
Directions
Combine all shredded cheese and mix well in a large mixing bowl.
Add corn starch and mix. Set aside
IN a large saucepan, rub peeled garlic gloves on the bottom and sides. Discard used garlic.
Bring the saucepan to medium heat and add wine. Bring it to a simmer.
Start adding cheese and cornstarch mixture in 4-5 handfuls. After each handful whisk, and continue to whisk constantly. Let cheese melt before adding in the next handful. Repeat until you have a melted and well combined melted cheese mixture.
Add whisky and stir until cheese fondue mixture begins to bubble (3 minutes).
Remove from heat immediately- don't let it boil!
Season with salt and pepper and serve hot!
#TrainWithGrainsTip: Make sure you are whisking and stirring cheese mixture while on heat to ensure it doesn't stick or burn the bottom or sides of the saucepan.