Mini sugared cinnamon donuts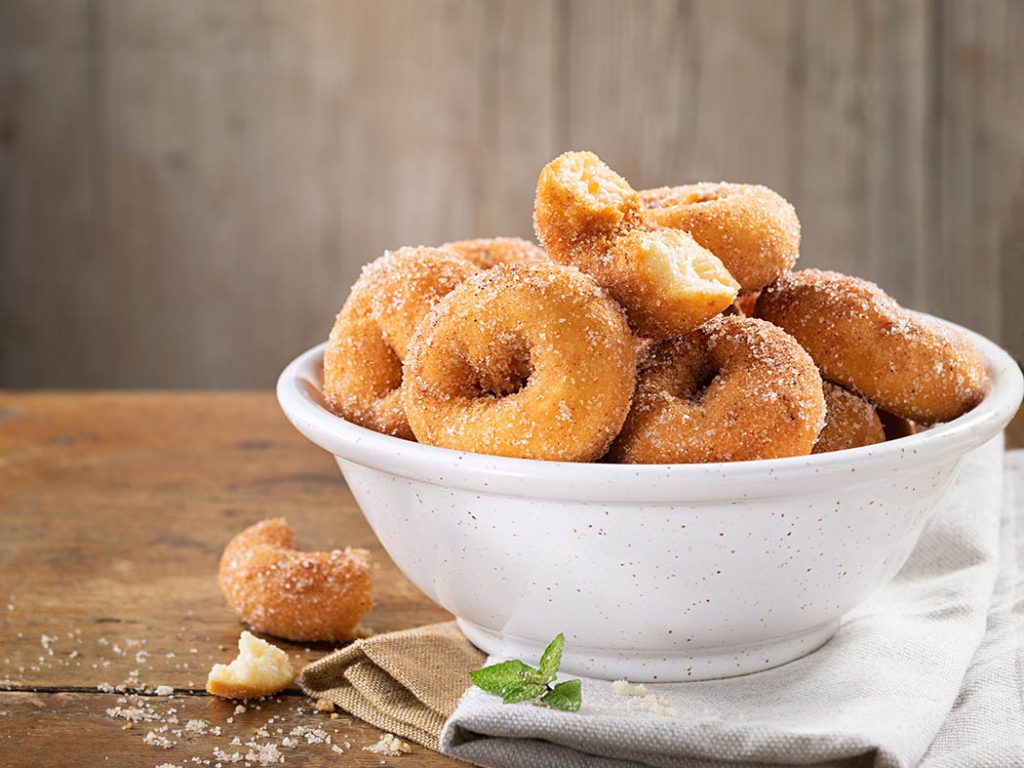 These sweet Mini sugared cinnamon donuts are a nostalgic replica of mini donuts you can buy at fall fairs or midways! Simply cook and roll in a sugar and cinnamon mixture while still warm.
Yield: 25 mini donuts
Prep time: 10 minutes
Cook time: 10 – 12 minutes
Ingredients
Donuts:
½ cups all-purpose flour
¾ tsp baking powder
¼ tsp salt
⅛ tsp nutmeg
10 tbsp unsalted butter, softened
½ cup white sugar
2 large eggs
1 tsp vanilla extract
½ cup (120ml) milk
Topping:
½ cup white sugar
1 tsp ground cinnamon
Directions
Preheat oven to 350 degrees F. Grease muffins tins with parchment paper.
Combine flour, baking powder, salt, and nutmeg together in a bowl. Whisk together.
In a separate bowl, mix together milk and vanilla extract. Set aside.
Using an electric mixer beat together butter and ½ cup white sugar until smooth and creamy. Add 2 large eggs, beat together until smooth and creamy.
Add flour and milk mixtures into the butter mixture. Stir until batter is smooth.
Add batter into a piping bag or spoon mixture into muffin tin until ¾ full.
How to create donut holes? There are different ways to create donut holes. You can either bake the donut batter into a muffin, then carve out the centres. Alternatively, fill the centre of each muffin tin with a greased marble or rolled up piece of tin foil and cut out after cooking.
Bake in the preheated oven until a toothpick inserted in the center comes out clean, 10 to 12 minutes.
Cool and serve!