Whisky and soy pork chops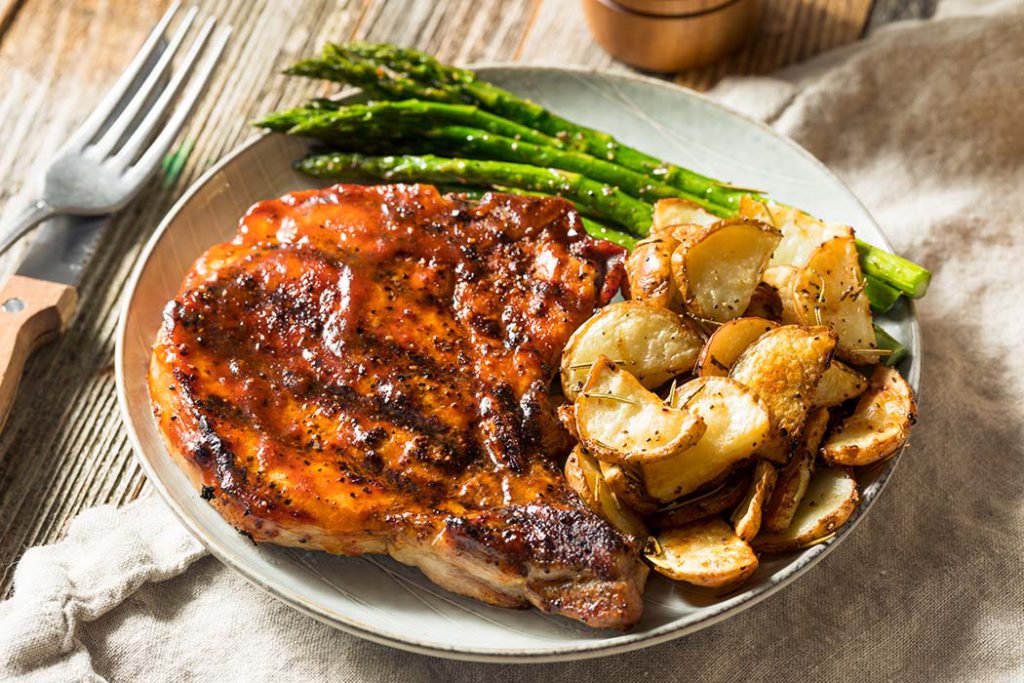 Infuse your next sit down meal with a blend of Ontario grain corn whisky and soy sauce topped over pork chops with asparagus and potatoes in this easy to make Whisky and Soy Pork Chops recipe.
Yield: 4 servings
Prep time: 20 minutes
Cook time: 30 minutes
Ingredients
¼ cup soy sauce
½ piece fresh ginger
1 tbsp soybean oil
3 tbsp water
2 tbsp Ontario grain corn whisky
4 boneless pork chops
2 clove garlic
¼ tsp ground black pepper
---
Watch how we made Whisky and soy pork chops:
---
Directions
Cut half of the ginger into quarters. Put aside.
Season pork chops with 1/4 teaspoon of black pepper on both sides.
Heat 1 tablespoon of soybean oil on medium heat.
Add pork to the frypan and cook 7-8 minutes or until browned on the outside. Transfer pork to plates.
Add garlic, whisky, sugar, ginger, soy sauce and water to the frying pan. Simmer and stir occasionally for 4-6 minutes or until thick.
Remove from heat and remove garlic and ginger pieces from the sauce.
Plate pork chops with cooked asparagus and potatoes. Spoon whisky and soy glaze over pork chops, enjoy!
#TrainWithGrainTip: Want to speed up cooking time? Prep the whisky and soy glaze ahead of time and store in an airtight container in the refrigerator. Remove when you are cooking your pork chops, and warm up in a sauce pan or in the microwave!