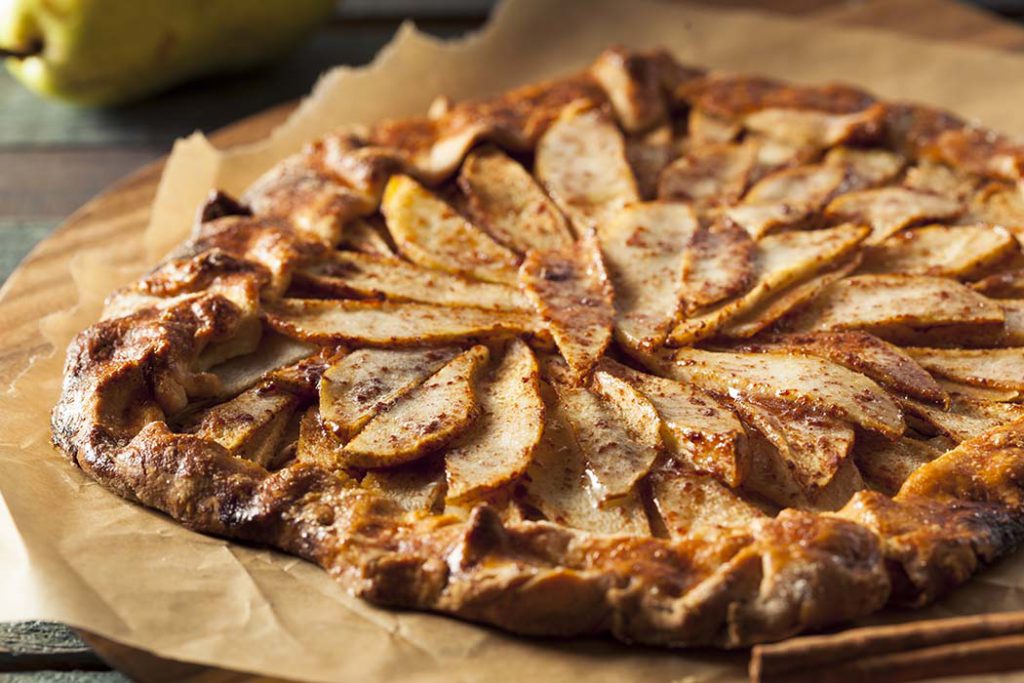 September is the month where Ontario fruits like pears and apples are in season. Try sourcing seasonal and local pears to make our Pear galette for a tasty fall dish.
A galette is a French pastry similar to a tart or a pie that is a pastry dough wrapped over a tasty fruit filling. This Pear galette doesn't require a special pan either — just a nice flat surface for baking.
Yield: 8 servings
Prep time: 15 minutes
Cook time: 35 minutes
Ingredients
Dough
1 ¼ cups all-purpose flour
⅓ cup finely ground cornmeal
1 tsp granulated sugar
¼ tsp salt
1 stick (8 tablespoons) cold unsalted butter, cubed
¼ cup ice water, divided
Pear Filling
½ cup granulated sugar
3 tbsp unbleached all-purpose flour
1/2 tsp ground cinnamon
6 to 8 pears, peeled, halved, with the core removed, and cut into thin slices.
Directions
Start by making the galette dough. Mix flour, cornmeal, butter, sugar and salt together in a food processor or stand mixer for a few seconds. Add the ice water and mix until the dough begins to come together. There should still be large chunks of the butter visible.
Remove and gather the dough in your hands and shape it into a ball. On a flat, floured surface, roll out the dough until 1/8 inches thick. Add to a large baking sheet and chill in the refrigerator for 20 minutes.
Preheat oven to 400°C.
Begin mixing the fruit filling. In a medium bowl combine the pear slices with the sugar, cinnamon and flour until well coated.
Remove dough from the refrigerator. Fill center of dough with fruit filling leaving roughly 2 inches between the filling and edges of the dough. Once fruit filling has filled an even layer on the dough, fold the 2-inch border over top of the fruit filling, leaving a "hole" in the middle showing the filling. The border should not close the galette completely.
Bake in the oven for 30-35 minutes or until the crust is golden brown and the peaches are soft.
Remove from oven and transfer from baking sheet to a wire rack and cool before serving.
Enjoy topped with peach jam, whipped cream or ice cream!