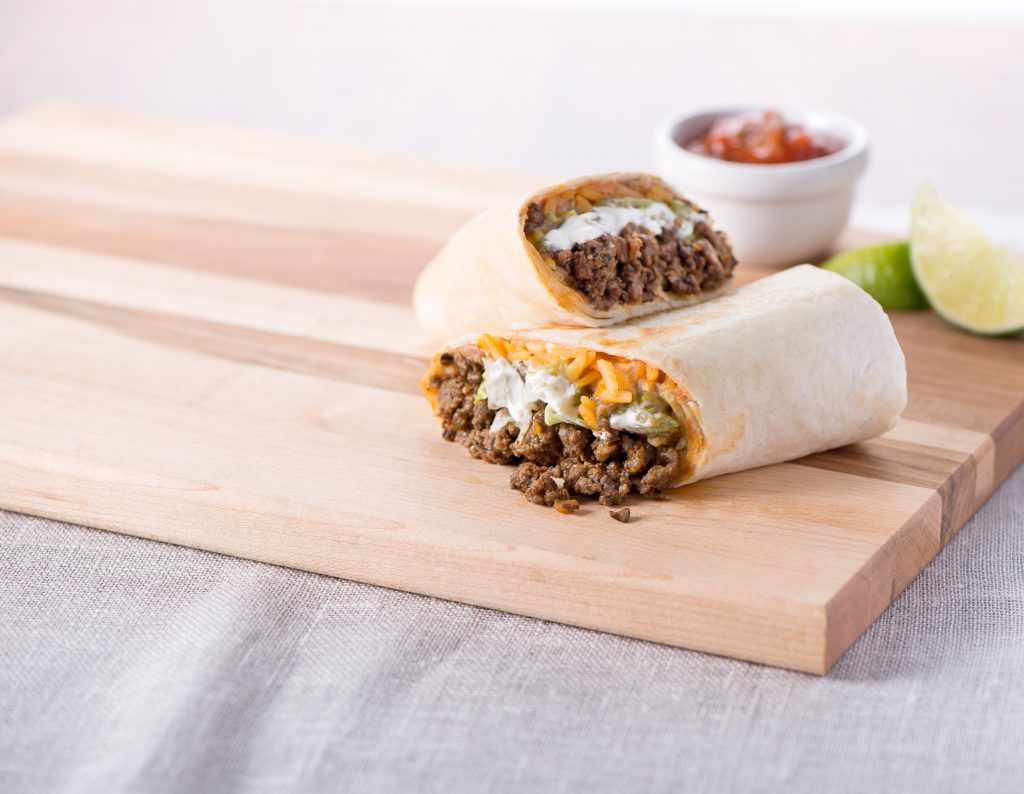 Need an update to your #TacoTuesday plans? Try making this Beefy Burrito recipe that features, beef, beans and grains working together to offer the most optimal nutrient absorption and protein consumption!
Ontario Beef, Ontario Bean Growers and Good in Every Grain have been working together for the past 5 weeks showcasing how multiple sources of protein can work together to provide optimal nutrient absorption in our #PowerofProtein series. Stay tuned next week for another great recipe!
Yield: 4 servings
Prep Time: 20 minutes
Cooking Time: 20 minutes
Ingredients
8 oz (250 g) fresh crimini mushrooms
½ lb (250 g) lean ground beef
1 tbsp (15 mL) canola oil
2 tbsp (30 mL) taco seasoning
1 cup (250 mL) reduced-sodium refried beans
4 large flour tortillas
1 cup (250 mL) cooked Spanish rice
2 cups (500 mL) shredded lettuce
½ cup (125 mL) salsa
½ cup (125 mL) guacamole (optional)
½ cup (125 mL) fat-free sour cream (optional)
¾ cup (180 mL) shredded part-skim Cheddar cheese
Directions
Place the mushrooms in a food processor fitted with a metal blade. Pulse until finely chopped. Add the ground beef; pulse until well combined.
Heat the oil in a large, nonstick skillet over medium-high heat. Add the mushrooms, Tex-Mex seasoning and mushroom seasoning. Cook for 10 minutes until the mushroom mixture is browned.
Spread the refried beans over each tortilla. Spoon in rice, and top with the mushroom mixture, lettuce, salsa and optional guacamole and sour cream. Sprinkle with cheese, and roll up burritos.
Coat a hot nonstick skillet with cooking spray. Place the burritos, seam side down, and toast on both sides for 3 to 4 minutes until heated through.
#TrainWithGrainsTip: Choose whole wheat tortillas to add more nutrients to this nutrient-packed dinner.

Nutrition Facts Per Serving: Calories 503, Sodium 743mg, Protein 28g, Fat 21g, Carbohydrates 48g, Dietary Fibre 6g