Cornmeal Turkey Tamale Pie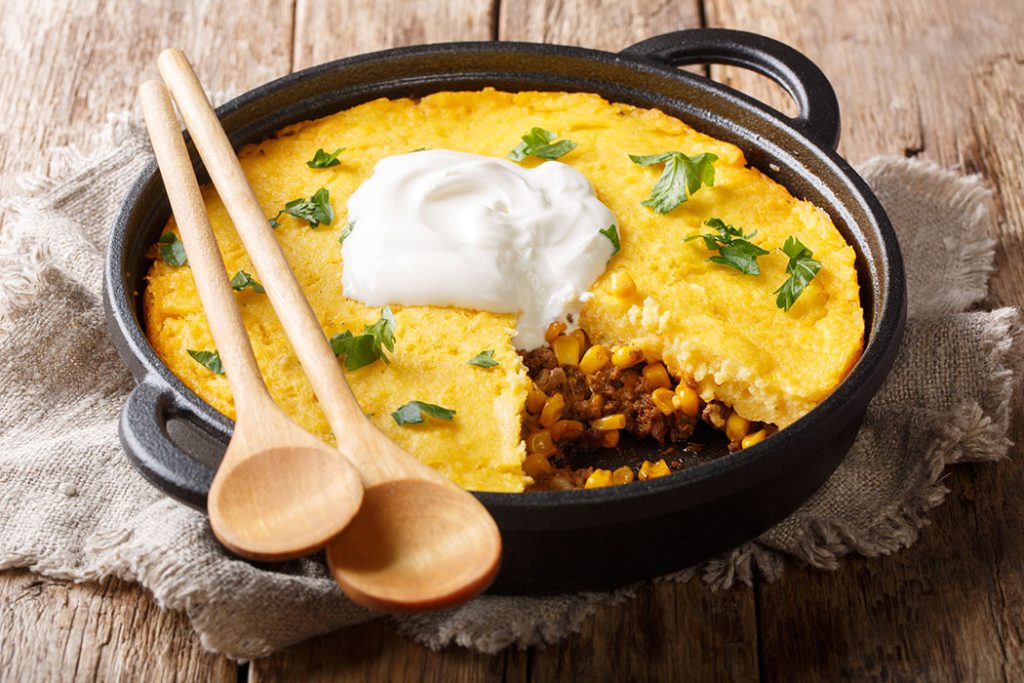 Adding Cornmeal Turkey Tamale Pie to your weeknight dinner ideas is a great idea to introduce new recipes to your family's meals. This recipe uses pantry staples and is easy to put together for a tasty dish featuring the goodness of whole grain corn in the cornmeal crust.
Yield: 8 servings
Prep time: 25 minutes
Cooking time: 60 minutes
Ingredients
1 tablespoon corn oil
1 large onion, diced
1 clove garlic
1 teaspoon salt, divided
1 red bell pepper, diced
1 teaspoon freshly ground black pepper
2 cans stewed tomatoes
1 cup whole kernel corn
1 ½ teaspoon chili powder
½ cup yellow cornmeal
1 cup cheddar cheese
1 (15.5 ounce) can tomato sauce
1 ½ cups chicken broth
1 lb ground turkey
For the Crust:
1/2 cup yellow cornmeal
2 large eggs
1 ½ cups milk
2 tablespoons butter
1 teaspoon salt
Directions
Preheat the oven to 375° F.
Grease a 9X12-inch baking dish.
Heat oil in a skillet over medium-high heat. Add ground turkey and cook. Add onion and a large pinch of salt. Sauté until translucent, about 3 to 5 minutes. Add bell pepper and stir until peppers start to soften, about 2 minutes. Add tomatoes, season with black pepper and chilli powder.
Stir to combine and remove from heat.
Add tomato sauce, whole kernel corn, remaining salt, and chicken broth. Stir mixture and pour it into a 9×12-inch baking dish.
In a medium saucepan, heat 1 1/2 cups milk with 1 teaspoon salt and the butter. When the milk is hot, but not boiling, gradually stir in the 1/2 cup yellow cornmeal. Continue cooking until thickened, stirring constantly.
Remove from heat and stir, then add the cheese and beaten eggs. Whisk to blend.
Ladle batter over the turkey mixture. Scatter remaining cheddar cheese on top.
Bake in the preheated oven until the topping is browned and a toothpick comes out clean (45 minutes to 1 hour).
Serve with sour cream and cilantro.
---