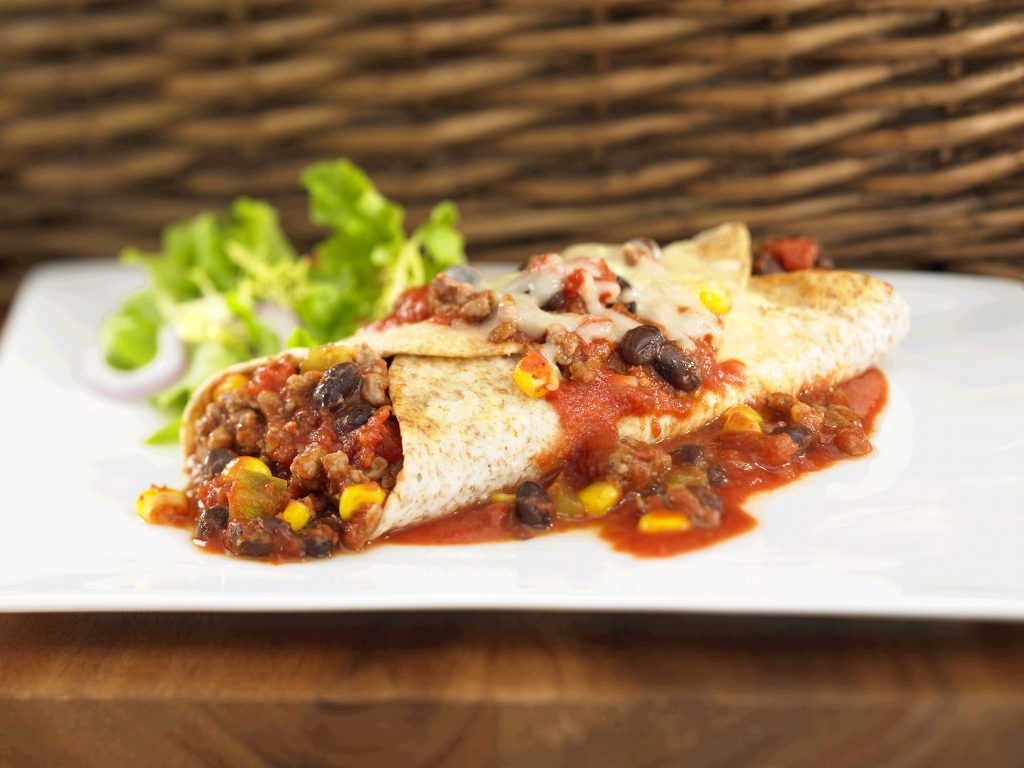 Looking for a use for leftover beef chilli? Add them to flour tortillas for homemade beef chili enchiladas!
In this recipe, we're taking our corn and black bean chilli leftovers from last week and making tasty enchiladas! Enchiladas are a tasty dish that features a meat or chilli sauce wrapped in a rolled flour or corn tortilla. Featuring beef and black beans chilli wrapped in the goodness of flour tortillas, this meal delivers the much needed high-quality protein our bodies need to function each and every day!
It's week two of our #PowerofProtein collab with Ontario Beef and Ontario Bean Growers to showcase how the synergy between our three favourite protein sources (beef, beans and grains) can help you get the most nutrition out of your meals.
Yield: 8 servings
Prep time: 5 minutes
Cooking Time: 30 minutes
Ingredients:
8 small flour tortilla wraps
1 cup (250 mL) shredded Cheddar cheese
Leftover corn and black bean chili
Directions:
Spread 2 cups (500 mL) chili in 13 x 9-inch (3 L) baking dish; set aside.
Spoon 1/2 cup (125 mL) chili onto centre of each of 8 small flour tortillas. Roll up; place seam side down in baking dish. Spoon remaining chili over enchiladas. Sprinkle with 1 cup (250 mL) shredded Cheddar cheese.
Bake in 350°F (180°C) oven for 30 minutes
#TrainWithGrainsTip: Choose #wholegrain tortillas to ensure your getting an extra fibre boost with this high protein-packed dinner!
Recipe and image courtesy of Canadian Beef – www.canadabeef.ca