Homemade Shortbread Cookies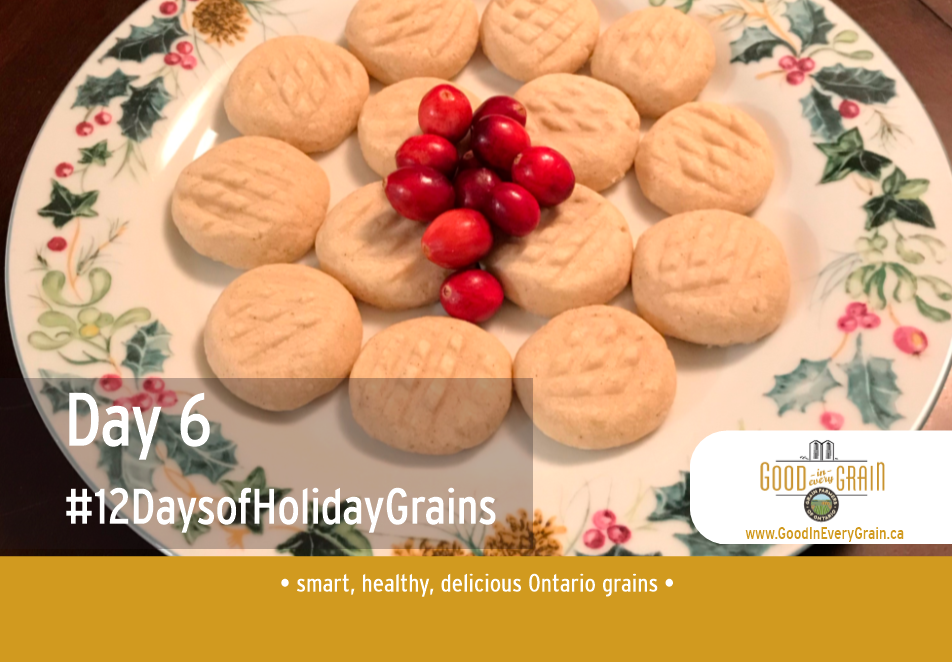 Day 6 of our #12DaysofHolidayGrains Countdown!
It wouldn't be the holidays without a shortbread dessert. Homemade shortbread cookies taste even better when given as a gift or brought to a holiday potluck! Happy baking this season!
#TrainWithGrainsTip: Looking for more fiber in your diet? Try substituting all purpose flour for whole wheat flour in this recipe.

Ingredients:
250g (1/2 lb) unsalted butter, softened
½ cup icing sugar
½ cup cornstarch
1 ½ cups all purpose flour
1 tsp cinnamon (or cardamom)
Pinch of salt
Optional: Halved candied cherries, chocolate pieces, jam or chocolate sauce
Directions:
Preheat oven to 325 F
Place softened butter in food processor or stand mixer, add sugar and mix for 2 – 3 minutes
Add cornstarch, flour, cinnamon and salt. Mix until well-blended.
It should be a slightly dry dough that can be formed into balls easily.
Roll pieces of dough into small balls and place on a greased and floured cookie sheet.
Flatten with a fork, or thumb to make thumbprint cookies (best for jam or chocolate toppings)
Top as desired (can leave empty, place halved cherries on top or use jam or chocolate)
Bake 14 minutes. Cool a bit and then further cool on wire racks. They are a bit delicate, so lift them carefully.
Makes 24-36 shortbread cookies.