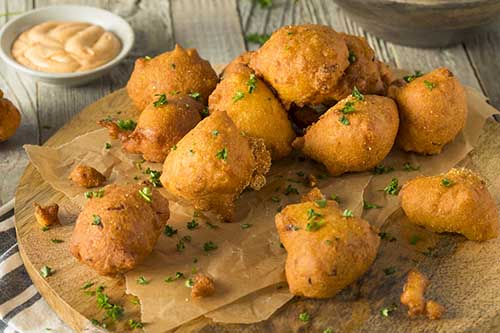 Hush puppies are a deep fried, side dish that is a staple in southern cuisine. It goes great with barbecue and seafood dishes and, tastes delicious as a home cooked comfort food!
Yield: 20- 25 servings
Prep time: 5 minutes
Cook time: 10 minutes
Ingredients
1 cup yellow cornmeal
¼ cup all-purpose flour
1 ½ tsp baking powder
½ tsp salt
1 large egg, lightly beaten
¾ cup whole milk
1 small onion, finely chopped
Oil for deep-fat frying
Directions
In a large bowl, combine the cornmeal, flour, baking powder and salt.
Whisk the egg, milk and onion; add to the dry ingredients until well combined.
In a large cast-iron pan or electric skillet, heat oil to 365°.
Drop batter by tablespoonfuls into the oil. Fry until golden brown. Drain oil from hush puppies and pat dry using paper towels.
Serve warm with your favourite dipping sauce.
#TrainWithGrainTips: Want to add a fun twist to your Hush Puppy's? Try adding crumbled bacon, jalapeno's, shredded cheddar cheese, finely chopped peppers or mushrooms to give these a unique taste!