#TrainWithGrains Tuesday Tip 12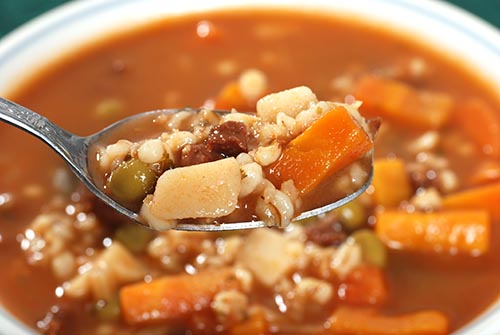 We know how hard it is to ensure you and your family are enjoying a healthy lifestyle that includes whole grains. Every Tuesday we will release a #TrainWithGrainsTip that will help you include whole grains into your healthy lifestyle.
Our tip this week is:
Tip #12
Its that time of year again where soups, stews and chilis are the perfect menu option. Our #TrainWithGrainsTip this week is to make sure you're making it to be as balanced of a meal as possible – don't forget to add in those healthy eating tips we learned with last week's Tip #11. Add in lots of vegetables, proteins and don't forget your grain servings! Add in barley, wheat berries, or pasta to your recipe to enhance the flavour AND make sure you're making your meal as nutritionally-balanced as possible.
And, we've got a recipe for that! Our beef and barley soup is perfect for those cold winter days – full details here!