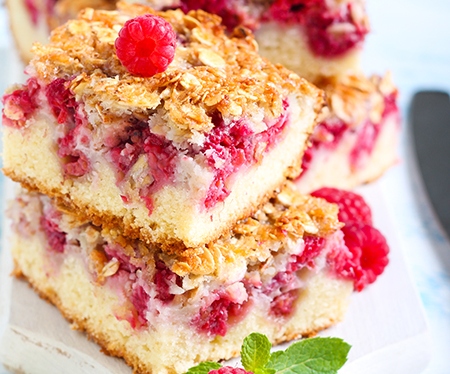 Looking for a tasty treat to bring to that potluck or family dinner? Try these raspberry oatmeal bars made from delicious and nutritious Ontario oats!
Oats are not only great for the environment but like we've mention before, they are a super healthy grain and can be made into many dishes!
Ingredients
½ cup unsalted butter, melted
½ cup granulated sugar
¼ cup light brown sugar
1 tsp vanilla
1 cup all-purpose flour
¾ cup whole-rolled oats
Pinch salt, optional and to taste
12 ounces (approx.) raspberry preserves
Directions
Preheat oven to 350F. Line an 8-inch square pan with aluminum foil and cooking spray.
In a large bowl, add melted butter, sugars, vanilla, and whisk to combine.
Add the flour, oats, optional salt, and stir to combine.
Set 1 cup of mixture aside for the crumble topping.
Put the remaining mixture in the prepared pan. Pack the mixture to create an even, flat crust.
Evenly spread the raspberry preserves over the crust. Preserves should be 1/8-inch to 1/4-inch thick.
Sprinkle the 1 cup of crumble topping mixture onto the preserves.
Bake for about 30 to 32 minutes or until edges are set and it is lightly golden browned.
Allow to cool before serving.