Combine to Kitchen: Whole-grain granola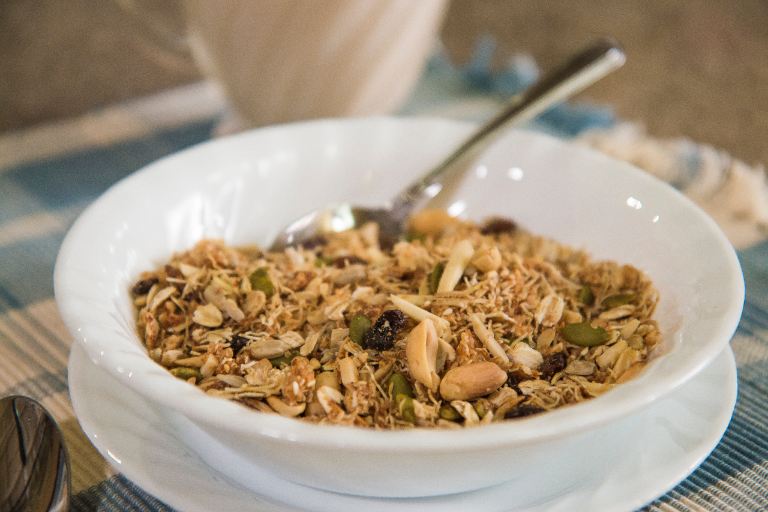 The excellent part about Whole Grain Granola is that it features two whole grains: wheat and oats. Whole grains include all three parts of the grain (bran, endosperm and germ) so you're getting all the good nutritional benefits from the whole grain wheat and oats in this one meal. And, these grains are good sources of both soluble and insoluble fibre.
Ingredients
4 shredded wheat biscuit-type cereal biscuits crumbled fine
1 cup rolled oats
½ cup wheat bran
½ cup sesame seeds
½ cup sunflower seeds
½ cup wheat germ
⅓ cup peanuts (or chopped walnuts, pecans)
⅓ cup slivered almonds
⅓ cup pumpkin seeds
2 ½ tbsp honey
2 tbsp oil
½ cup dried fruit (dried cranberries, dried blueberries, dried cherries, raisins)
Directions
Preheat the oven to 350 degrees F.
In a large bowl, combine the first 9 ingredients.
Add the honey and oil to the combined mixture and stir well.
Spread the mixture evenly onto a lined baking sheet.
Bake for 15 minutes, stirring halfway through baking.
Allow to cool on the pan.
Once the granola is cooled, transfer to a large bowl and stir-in the dried fruit.
Store in an airtight container.
Enjoy the granola over your favorite yogurt, topped with berries, or eaten as cereal in a bowl with milk!