Whipped avocado and cilantro puree with roasted corn tostadas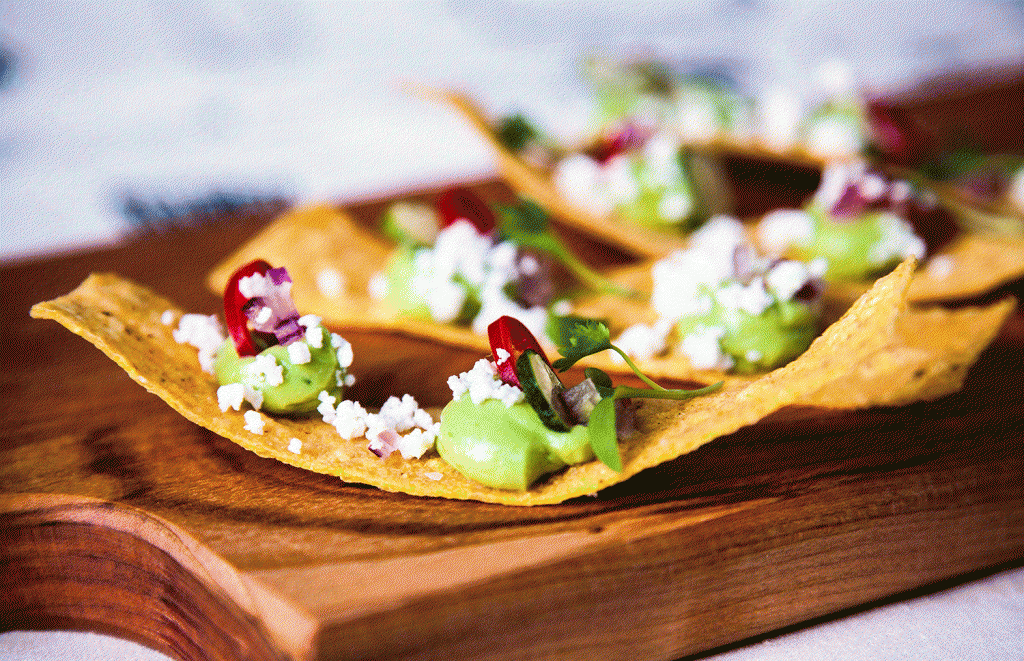 Ingredients:
Edamame – 100g
Avocado – 2
Breakfast radish – 2 diced
Large shallot, sliced
Basil leaves – 5
Feta cheese – 50g crumbled (1/2 cup)
Soy oil to taste
Limes – 2 juiced
Garlic – 1 clove diced
Cilantro – to taste
Black pepper – to taste
Kosher salt – to taste
Vegetable oil – 1L (4 ¼ cups)
All purpose flour – 250g (2 ½ cups)
Corn Starch – 50g (8 tsp)
Directions:
Place the avocado, lime juice, garlic and basil into a bar blender and puree until velvety smooth.
Remove puree from blender and season with salt and pepper to taste.
Preheat oil to 325 degrees F.
Peel and slice shallots into coins ½ inch thick, dredge them in the cornstarch and flour mix.
Deep fry the shallots until just golden brown, remove and season to taste.
Plating:
Spread the puree in a circular motion around the plate.
Garnish with edamame, breakfast radish, crisp shallots, feta, fresh lime juice and soy bean oil.