Crispy tofu with ginger edamame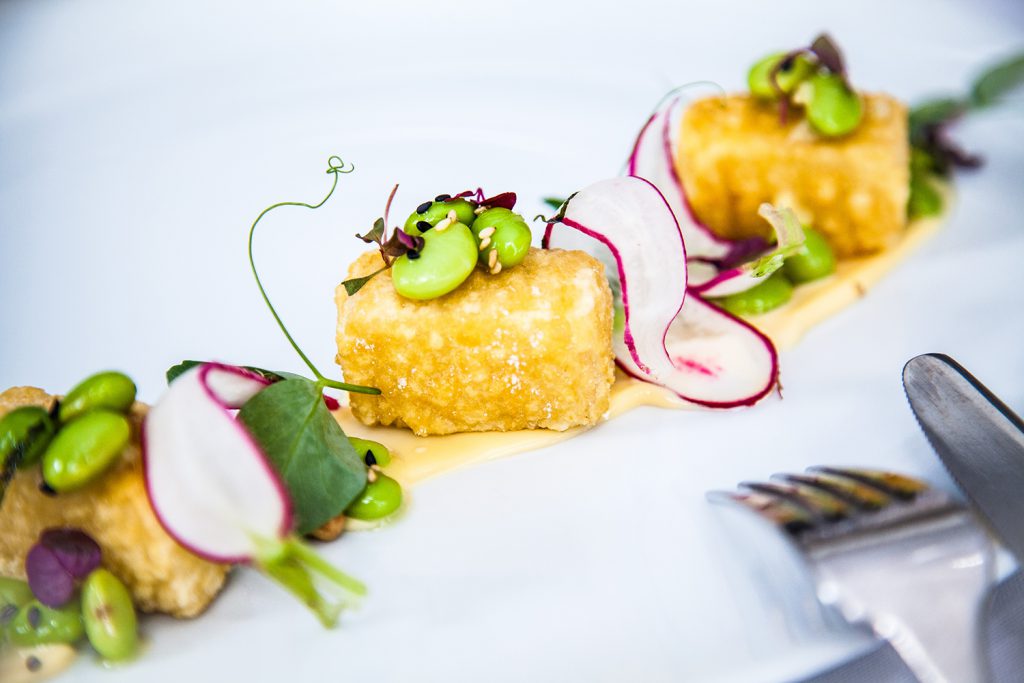 Tofu is made from Ontario soybeans, and tastes exceptionally well when fried and flavoured to the eprfect crispiness. Top with ginger flavoured edamae (also made from soybeans!) for a wonderful soybean protein rich meal.
Yield: 2 servings
Prep time: 10 minutes
Cook time: 10 minutes
Ingredients
Firm tofu -1 block
Whole edamame – 454g in pods
Light miso paste- 20g (1 tbsp)
Unsalted butter -50g (3 ½ tbsp)
Green onions – 2 sliced
Sesame seeds – toasted
Soya sauce – 3 tbsp
Rice wine vinegar – 1 tsp
Ginger – 1 tsp minced
Vegetable oil – 2L (9 cups)
Corn starch – 100g (1/3 cup)
All-purpose flour – 400g (2 2/3 cups)
Directions:
Start by cutting the tofu into 1-inch cubes, dust with the corn starch and flour and put aside. At this point put on a pot of salted water to boil and the vegetable oil to heat up. The oil should be no higher than 325 degrees F. If you do not have a thermometer, you can test the oil by putting in a sprinkle of flour to make sure it sizzles. Take your time at this point.
Now that everything is coming together, in a large bowl add the miso, butter, green onions, rice wine vinegar and minced ginger. By now the salted water is boiling. Add the edamame and blanch for 1 minute. Keep in mind the water will cool a bit and stop boiling – but it's OK, we just want to heat them through.
Strain the beans from the water and place them into the bowl.
Begin to deep fry the tofu. Remember to test first and NOT to overfill because the oil can catch on fire.
Once the tofu has been cooked to a golden brown, toss with the edamame and coat well with the sauce in a bowl.
Place the crispy tofu and edamame around the bowl. Pour any remaining sauce over both the tofu and edamame. Sprinkle with sesame seeds and enjoy!