Charcoal chicken satay with Thai bulgur salad and peanut dressing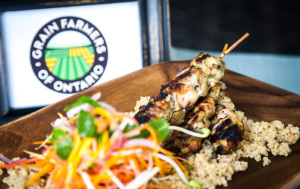 With Mother's Day just around the corner, Grain Farmers of Ontario Resident Chef Jonathan Goodyear joined host Bob Cowan on CHCH Morning Live, demonstrating great ways to spice up your Mother's Day dinner with Ontario grains. Check out Chef Jonathan in action at http://www.chch.com/cooking-mom/.
CHARCOAL CHICKEN SATAY
Ingredients:
Chicken thighs – 1kg boneless, skinless
Lime juice – 100g (1/2 cup)
Corn syrup – 100g (5 tbsp)
White vinegar – 200g (1 cup)
Chili peppers – 15g diced (1 1/2 tbsp)
Garlic – 10g diced (1 tbsp)
Ginger – 15g diced (1 tbsp)
Cilantro – 20g diced (1 1/4 cups)
Kosher salt – 15g (2 tsp)
Spring water – 450g (2 cups)
Fish sauce – 75g (5 tbsp)
Directions:
In a bar blender, add all of the ingredients (minus the chicken) and blend. Reserve part of the marinade to dress the satay once they are grilled.
Cut the chicken thighs into 4 equal pieces, place in a sealable bag, pour the marinade over the chicken and let marinated for at least 4 hours. The longer the chicken marinates the better.
Skewer chicken, 100-150g per satay. In the mean time, light the charcoal BBQ and let it come down to a manageable heat. Be careful when you grill the satays, it's always better to grill them over indirect heat because the sugar in the marinate will burn and blacken the chicken.
Once the chicken has reached desirable doneness, remove and brush on the remainder of the unused marinade.
Place them on top of the Thai salad and dress with the peanut sauce!
THAI BULGUR SALAD WITH ROASTED PEANUT DRESSING
Ingredients:
Bulgar wheat – 1L (4 1/4 cups)
Thai basil leaves – 15
Flat-leaf parsley leaves – 15
Shallots – 2 cut into a small dice
Cucumber – 1 diced
Bean sprouts – 2 cups
Carrot – 1 julienned
Enoki mushrooms – 1 pkg
Snow peas – 1/2 cup julienned
Chicken stock – 2L (8 1/2 cups)
Peanuts – 80g crushed (1/2 cup)
Peanut dressing – 1 cup
Directions:
Bring the chicken stock to a boil and in a bowl pour over the bulgur wheat. Give the bulgur a stir, season and cover with cling film. After 1 hour remove the cling film and fluff up the bulgur with a fork.
Once the bulgur is cool, add the shallots, cucumbers, bean sprouts, carrots, enoki, and snow peas. Lightly dress the salad with the peanut dressing. If the dressing is too rich add some lime juice to lighten the dish. The longer the salad sits the more the flavors develop.
Garnish the salad with fresh Thai basil, parsley and crushed peanuts.