#TrainwithGrains Recipe: No Guilt Granola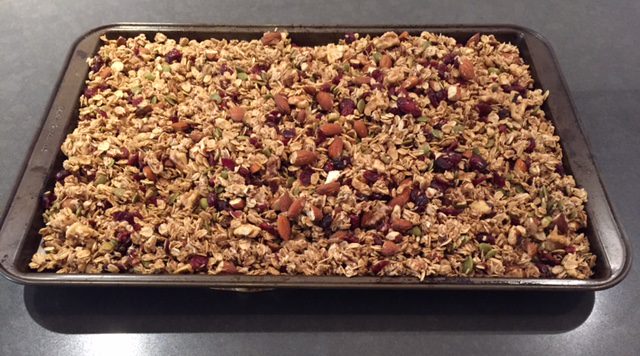 This year we're teaming up with the Canada Running Series to bring you the best pre and post-run recipes to fuel your marathon training! Each week we'll feature a new and unique recipe from one of our CRS Community Leader Ambassadors. For today's recipe Jean-Paul Bedard, who will be running the Triple Scotiabank Toronto Waterfront Marathon on October 18th, shares his recipe for Guilt-Free Granola! Take it from someone who runs 200km per week, this is the stuff runner's dreams are made of! Do you have a recipe you'd like to share? Share a photo on Twitter or Instagram using the hashtag #TrainWithGrains for your chance to win a "Good in Every Grain" Prize Pack valued at $50!
As an ultra runner, I typically log 200 km a week. Needless to say, I'm always hungry, but more importantly, I'm looking for healthy snack options. My nutritionist friend, Lucia, sent me a granola recipe last year, and I thought I would share my amended version of that recipe.
My wife and I love this granola so much that I usually make it twice a week. As an added benefit, you won't believe how amazing your house smells when this is in the oven!
Dry Ingredients:
3 ½ cups large flake oats
¾ cup coarsely chopped almonds
¾ cup coarsely chopped walnuts
1 cup unsweetened coconut flakes
1 ¼ cup dried cranberries (preferably unsweetened or reduced sugar)
½ cup coarsely chopped pumpkin seeds
1 tbsp. cinnamon
½ tsp. sea salt
Wet Ingredients:
½ cup water
½ cup maple syrup
1 tsp. pure vanilla extract
2 tbsp. soybean oil
2 tbsp. coconut oil
Preparation:
Preheat oven to 200 degrees Fahrenheit (If possible, set your oven to 'convection' mode.)
In a large bowl, combine dry ingredients and give them a good stir.
Bring the water to a boil, and stir in the remaining wet ingredients. Whisk together until blended.
Poor the liquid ingredients over the dry ingredients and stir thoroughly until the oat mixture is well coated.
Line a baking sheet with parchment paper and spread out granola mixture evenly on the baking sheet.
Place in the oven and cook for approximately 2 ½ hours. Using a wooden spoon, turn over the granola on the baking sheet every 15 or 20 minutes while it is baking. This is a key step to help dry out the granola and prevent it from burning.
Let granola stand for an hour or so before placing it into an airtight container.
When I need a protein kick, I spoon about ½ a cup of granola over some Greek yogurt. In the evening when I'm looking to satisfy my sweet tooth, I take a ½ cup of dry granola and mix in a few (and I'm not going to tell you how many) dark chocolate chips… Trust me… It's better, and healthier, than any cookie!
Share your favourite pre or post run snack or meal on Twitter or Instagram using the hashtag #TrainWithGrains for your chance to win a $50 "Good In Every Grain" prize pack! We're choosing one winner every week until STWM!