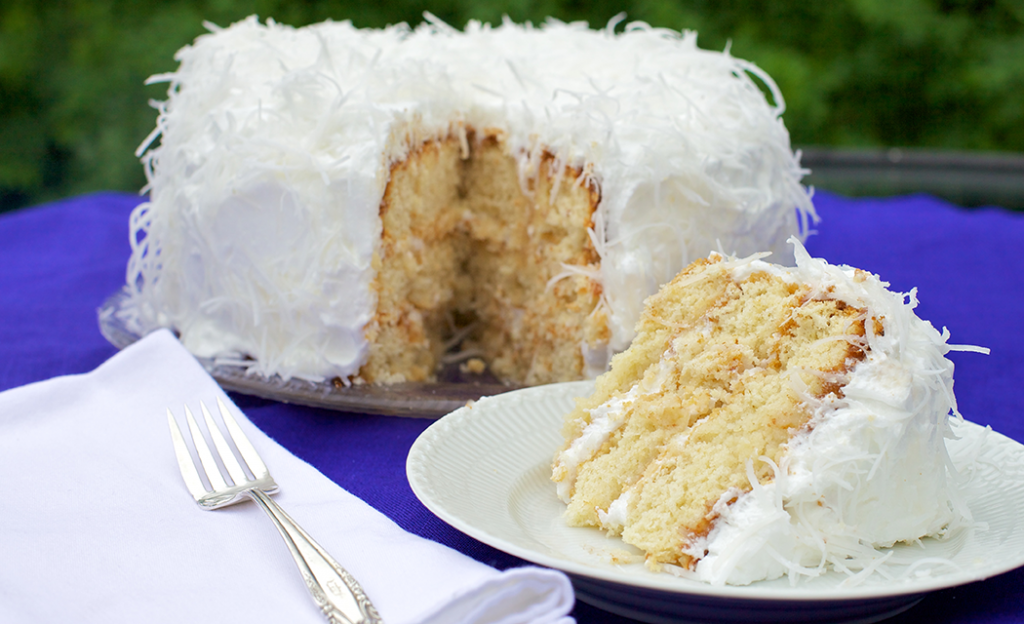 Using wheat flour and soymilk, this great coconut layer cake is a tasty dessert featuring the goodness of Ontario grains!
Yield: 8 servings
Prep time: 10 minutes
Cook time: 30- 40 minutes
Ingredients
Cake
1 cup white sugar
½ cup butter
1 egg
¼ cup corn oil
2 tsp vanilla extract
1 ½ cup all-purpose flour
1 ¾ tsp baking powder
½ cup unsweetened vanilla soy-milk
1 package of sweetened angel-flake coconut
Icing
3 cups confectioners' sugar
1 cup butter
1 tsp vanilla extract
1-2 tbsp vanilla soy-milk
Directions
Preheat oven to 350 degrees F (175 degrees C). Grease and flour two round cake pans.
In a medium bowl, cream together the sugar and butter. Beat in the eggs, then corn oil, then stir in vanilla. Combine flour and baking powder, add to the creamed mixture and mix well. Finally, stir in the soy-milk until the batter is smooth. Pour or spoon batter into the prepared pan.
Bake for 30 to 40 minutes in the preheated oven until a knife inserted into the middle of each cake comes out cleanly.
In a standing mixer, fitted with a whisk, mix together sugar and butter. Mix on low speed until well blended and then increase speed to medium and beat for another 3 minutes. Add vanilla and soy-milk and continue to beat on medium speed for 1 more minute, adding more soy-milk if needed for spreading consistency.
Spread icing in between cake layers and on the exterior of the cake with a spatula or icing knife. Pack the flaked coconut on the exterior of the cake to finish.