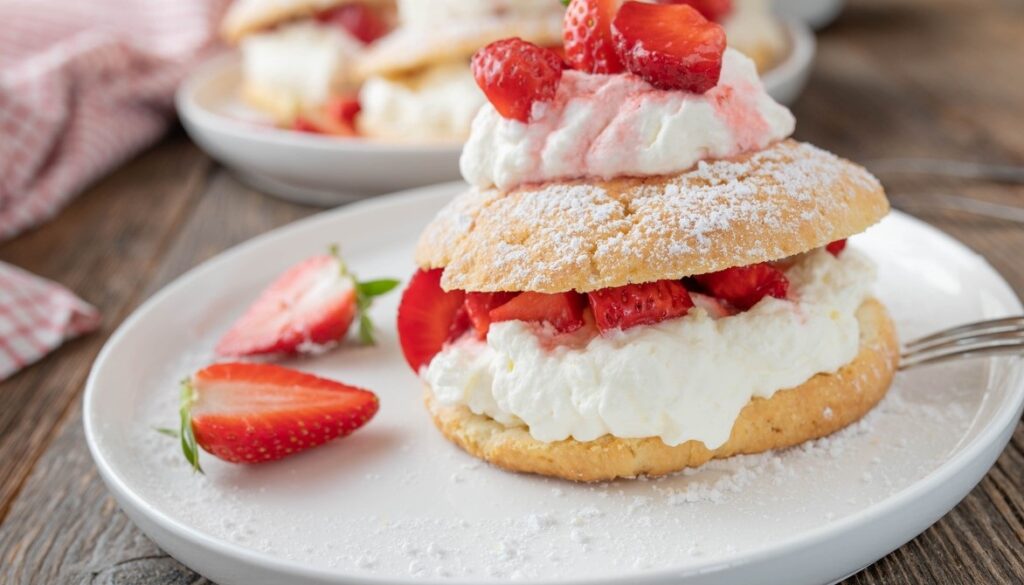 Strawberries are in season in Ontario this month, and when paired with our Flakey biscuits and whipped cream make a delicious summer treat: Strawberry shortcakes. Our biscuits are made using whole wheat flour so you're getting the added bonus of healthy grain goodness along with the sweet flavors of strawberries.
Yield: 10 shortcakes
Prep time: 20 minutes
Cook time: 15 minutes
Ingredients:
Biscuits
2 ½ cups whole wheat flour
1 tbsp baking powder
1 tbsp sugar
1 tsp salt
½ cup unsalted butter, cold and cubed
¾ cup of milk or buttermilk
Shortcake filling
1 ½ cups heavy cream
2 tbsp sugar
1 tsp vanilla extract
6-7 cups strawberries, diced
Directions:
Preheat oven to 425°F (218°C), and line a baking sheet with parchment paper. Set aside.
Combine flour, baking powder, sugar and salt together in a large mixing bowl. Mix well.
Add the cubed butter and cut into the dry ingredients with a pastry cutter or by shredding into small pieces using a food grader. Stir into flour mixture.
Continue to cut and combine the butter in, until the mixture resembles coarse crumbs.
Pour milk into mixture and stir to combine. Don't over stir the dough- it should look to be in shreds and very crumbly.
Transfer dough to a flat, floured surface and gently knead the dough using your hands.
Using hands, spread dough out until it is flat and resembles a rectangle shape. Fold the dough in half over itself, and gently flatten layers with hands. Rotate the dough and repeat this step around 5 times so you have multiple layers of dough gently pressed together.
Using your hands, flatten dough until it is 1" thick. Cut into 3" circles, and place onto parchment lined baking sheet. Re-roll any scarps into 3" circles as well.
Brush the tops of biscuits with any remaining milk and bake for 15 minutes.
While the biscuits are cooking, start making your vanilla whipped cream in the middle.
Put the cream in the bowl of a stand mixer fitted with a whisk attachment. Whip until foamy and then add the sugar and vanilla extract. Beat until soft peaks form. Set aside.
Once biscuits are cooked, remove from oven, and let cool to room temperature.
Cut biscuits in half and assemble shortcakes by spooning whipped cream and strawberries onto bottom of cut biscuit. Add top biscuit on, and top with more strawberries or a sprinkle of icing sugar.
Enjoy!