Peppermint chocolate frosted cookies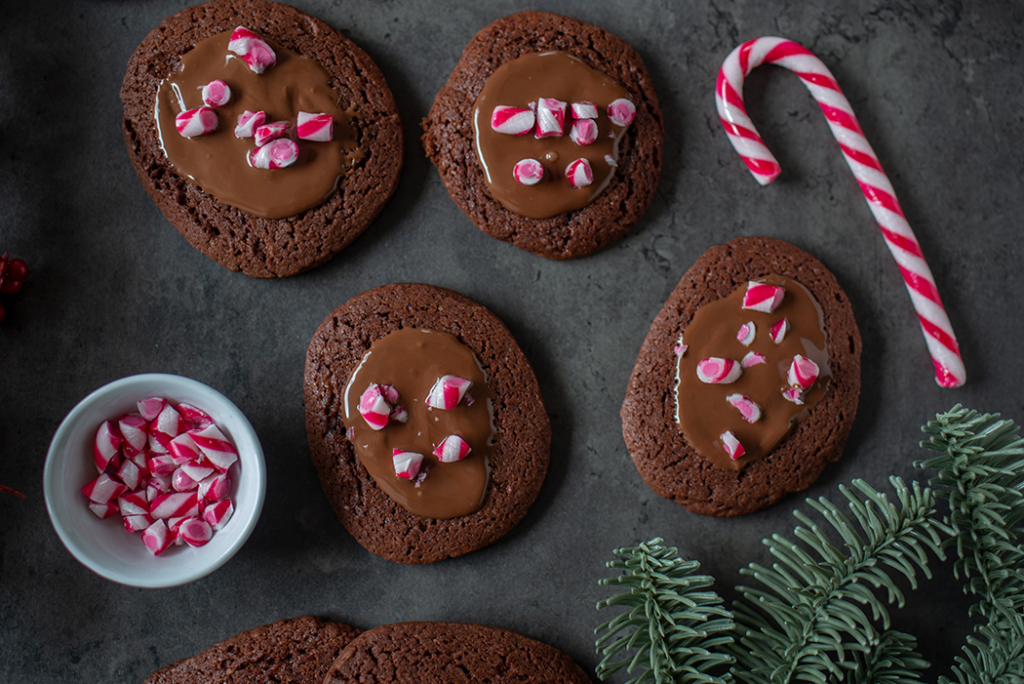 Celebrate the holidays this year with peppermint chocolate frosted cookies! This tasty and easy to make dessert is a great holiday dinner or party addition that brings the flavors of the holidays.
Yield: 24 cookies
Prep time: 15 minutes
Cook time: 10 minutes
Ingredients:
For the cookies:
2 1/2 cups all-purpose flour
1 cup butter
3/4 cup granulated sugar
1/2 cup brown sugar packed
2/3 cup cocoa powder
1 teaspoon baking soda
1/2 teaspoon salt
1 teaspoon vanilla
2 large eggs
For the frosting:
1/2 cup butter, softened
2 cups powdered sugar
1/2 cup cocoa powder
1/3 cup heavy cream
1/4 teaspoon vanilla
3 candy canes, crushed
Directions:
Preheat oven to 350 degrees. Spray a cookie baking sheet or line with parchment paper.
Using a medium mixing bowl mix together flour, cocoa powder, baking soda, and salt. Set aside.
In a large bowl, mix butter with granulated and brown sugars until creamy.
Add in vanilla and eggs to butter/sugar mixture.
Combine the dry ingredients from step 2 to large mixing bowl – stir until well combined.
Form cookie dough into 1.5 inch to 2-inch balls, and place on cookie sheets.
Bake for 10 minutes, check to make sure cookies are cooked through by poking a clean toothpick into center of cookie. If it is clean and dry when removed, cookies are cooked thoroughly.
Remove from oven and let cookies cool completely.
To make the frosting, combine butter, powdered sugar, cocoa powder, heavy cream and vanilla in a bowl. It should be a creamy and thick consistency. Place aside.
Place three candy canes in Ziploc bag, and gently crush.
Once cookies are completely cooled, gently spread the frosting over the cookies.
Sprinkle crushed candy canes over frosted cookies.
Serve right away or store in an airtight container in the refrigerator for up to one week.