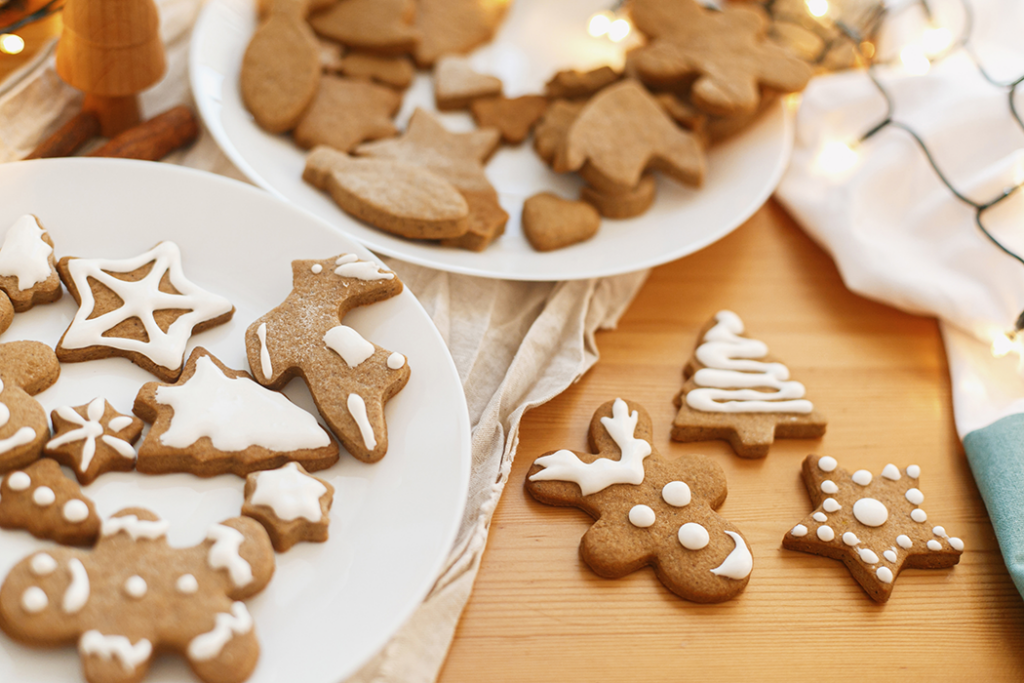 Is there anything more timely in December than gingerbread?! It's everywhere—cookies, coffee, spice cakes, pancakes, houses. You can't escape it!
Our love of gingerbread goes back a long way—all the way to the 11th century. It was Queen Elizabeth I who first had it made into human figures; the first gingerbread men were based on dignitaries visiting her court.
Today we bake gingerbread people, stars, hearts, houses, and reindeer (just turn your cookies legs up—voila! A reindeer shape).
In a busy classroom with kids ramped up anticipating the holidays, you may not want to take on a baking project. You can fake it! Use our recipes for no bake play doh or salt dough (both made with wheat flour) to make "gingerbread" people, 2-dimensional houses or other shapes. Have students decorate them. Use more play doh to decorate the play doh shapes or paint and glitter on the salt dough.
We also have recipes for classic gingerbread cookies (you can make the dough ahead of time) and gingerbread pancakes. Or print the recipes for students to take home.
Remind students that the flour used in these activities came from wheat grown right here in Ontario. Likewise, if you make the yummy gingerbread pancakes—wheat and corn from Ontario farmers.
Explain the connection to flour with this Food Hero video to show students how we can do all that baking! For older students – How it's Made.
Gingerbread People Cookies
(Makes about 2 dozen)
Ingredients
3 cups all-purpose flour
2 tsp ground ginger
1 tsp cinnamon
¼ tsp ground nutmeg
1 tsp baking soda
¼ tsp salt
¾ cup butter, softened
¾ cup brown sugar (firmly packed)
1/2 cup molasses
1 egg
1tsp pure vanilla extract
Directions
Combine the flour, spices, baking soda, and salt in a bowl. Set aside. Cream the butter and brown sugar until light and fluffy. Add molasses, egg and vanilla to the creamed mixture and beat until well combined. Gradually add the dry mixture until well combined.
For best results, refrigerate the dough for at least four hours (overnight is better) to prevent the dough from sticking to the surface when cutting out the cookies.
Roll out the chilled dough on a floured surface. Cut into gingerbread men or other shapes.
Preheat oven to 350 F
Bake 10 minutes until the edges set and the cookies begin to brown. Allow to cool completely and decorate as desired.
Icing
Use classic butter and icing sugar icing squeezed through a pastry bag or plastic bag with corner cut off to make small hole.
Or try this icing to paint cookies.
1 cup confectioner's sugar
2 tsp milk
2 tsp light corn syrup
¼ tsp almond extract (optional)
Assorted food colouring if desired
Stir together confectioners' sugar and milk in a small bowl until smooth. Beat in corn syrup and almond extract until icing is smooth and glossy. If icing is too thick, add more corn syrup.
Divide into separate bowls, and add food colorings to each to desired intensity. Dip cookies, or paint them with a brush. If you have a gingerbread man cookie cutter, you have a reindeer cookie cutter!
Freezing
The dough can be frozen for up to three months. Form dough into a ball and layer in plastic wrap then aluminum foil. To use, thaw dough overnight in refrigerator, then cut and bake as directed.
Gingerbread shapes can be frozen undecorated. Or place completely cooled cookies in a zip-top freezer bag and freeze up to three months. Thaw overnight in refrigerator, then decorate.
Recipe from Taste of Home, © 2022