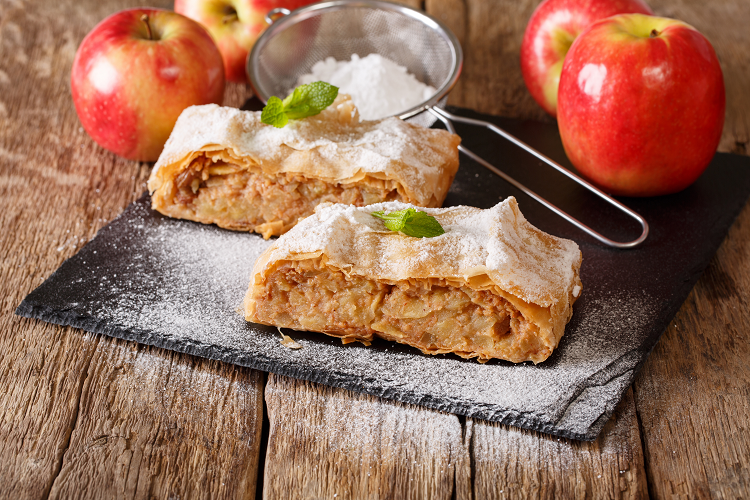 Apple Strudel is a dessert that may look intimidating but is actually much easier than you may think! Its flakey crust and sweet apple pie filling, it sure is a decadent dessert!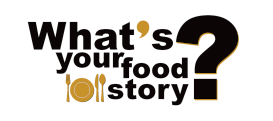 Yield: 6 servings
Prep time: 25 minutes
Cook time: 50 minutes
Ingredients:
6 medium-size apples, such as Northern Spy or Gala
3 wide strips lemon or orange zest
1 cup apple cider, or apple juice
⅓ cup raisins
2 tbsp granulated sugar
½ tsp cinnamon
¼ tsp ground nutmeg
2 tbsp brown sugar
1 tbsp store-bought fine dry breadcrumbs
6 sheets phyllo pastry
Cold water
1-2 tsp butter, melted
2 tsp icing sugar, optional
Directions:
Peel apples. Slice into halves. Cut out and discard cores. Thinly slice. They should measure about 8 cups (2 L). Place in a large frying pan with lemon peel, apple cider, raisins, granulated sugar and 1/4 tsp (1 mL) each cinnamon and nutmeg. Place over high heat and boil, uncovered and stirring occasionally, until apples are tender and all of liquid is evaporated, 15 to 20 minutes. Stir often for last few minutes of cooking. Turn mixture onto a baking sheet and refrigerate to quickly cool, at least 10 minutes. If making ahead, cover mixture with plastic wrap and keep in refrigerator overnight.
When ready to bake, preheat oven to 400F (200C). In a small bowl, stir brown sugar with bread crumbs and remaining 1/4 tsp (1 mL) cinnamon. Lay 1 sheet of phyllo on counter with long edge of pastry facing you. Lightly brush with water, then sprinkle with a scant 2 tsp (10 mL) sugar mixture. Repeat process, adding 4 more sheets of phyllo and using all of sugar mixture. It's OK if some of pastry rips or has holes. Top with remaining phyllo sheet, but don't add crumb mixture.
Discard lemon peel from apples. Mound filling lengthwise in centre of phyllo, leaving about 2 inches (5 cm) uncovered at both ends. Lightly brush edges of phyllo with a little melted butter. Fold 1 long edge over filling, then fold in both shorter ends to enclose filling. Roll tightly into a log. Place seam side down on an ungreased baking sheet. Brush with remaining butter. Cut diagonal slashes about 1 inch (2.5 cm) apart on top of strudel. Bake in centre of preheated 400F (200C) oven until golden, 20 to 25 minutes. Remove from oven and let stand 5 minutes before slicing with a serrated knife. Dust with icing sugar. Delicious warm or at room temperature. Great with caramel ice cream or frozen yogurt.
Recipe from Chatelaine.