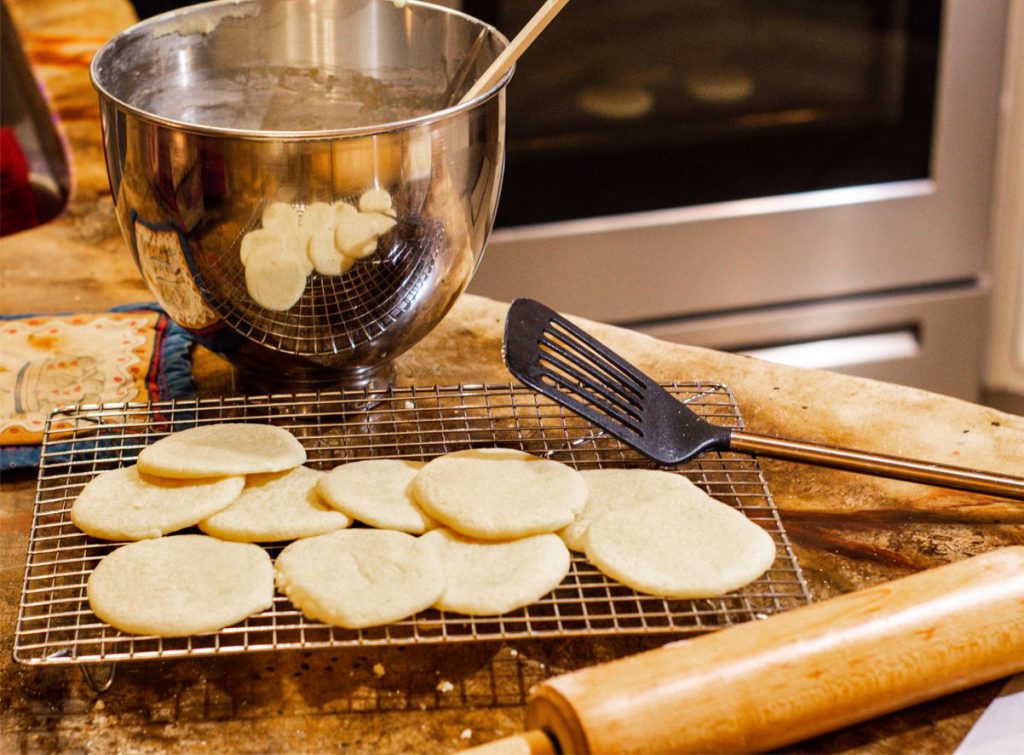 Make your own holiday sugar cookies this holiday season and, don't forget to decorate them to get into the festive spirit! The cookies are soft and have crisp edges, and the easy to make icing adds the perfect sweet taste.
Yeidl : 36 cookies (cookies are 2.5 inches)
Prep time: 15 minutes
Cook time: 9 minutes
*inactive time roughly 2 hours.
Ingredients
Cookies
3 cups all-purpose flour
¾ tsp baking powder
¼ tsp salt
1 cup unsalted butter, softened
1 cup granulated sugar
1 large egg, beaten
1 tbsp milk
Powdered sugar, for rolling out dough
Icing
1 ½ cups confectioners' sugar
¼ tsp pure vanilla extract
1 tsp light corn syrup
2 – 2.5 tbsp water, room temperature
Pinch salt
Directions
Sift together flour, baking powder, and salt. Set aside. Place butter and sugar in large bowl of electric stand mixer and beat until light in color. Add egg and milk and beat to combine. Put mixer on low speed, gradually add flour, and beat until mixture pulls away from the side of the bowl. Divide the dough in half, wrap in waxed paper, and refrigerate for 2 hours.
Preheat oven to 375°F.
Next, sprinkle surface where you will roll out dough with powdered sugar. Remove 1 wrapped pack of dough from refrigerator at a time, sprinkle rolling pin with powdered sugar, and roll out dough to 1/4-inch thick. Move the dough around and check underneath frequently to make sure it is not sticking. If dough has warmed during rolling, place cold cookie sheet on top for 10 minutes to chill.
Using cookie cutters, cut dough into desired shape(s) and place at least 1-inch apart on greased baking sheet, parchment, or silicone baking mat.
Bake for 7 to 9 minutes or until cookies are just beginning to turn brown around the edges. Rotate cookie sheet halfway through baking time. Let sit on baking sheet for 2 minutes after removal from oven and then move to complete cooling on wire rack. Cookies must be completely cool in order to decorate.
For the icing, whisk the confectioners' sugar, vanilla, corn syrup, and 2 tbsp of water together in a medium bowl. Check the thickness of your icing. Lift the whisk and let the icing drizzle back into the bowl, the ribbon of icing will hold shape for a few seconds before melting back into the icing. If it's too thick, whisk in 1/2 extra tbsp of water. If desired, add gel food coloring.
Once icing is made, and cookies are completely cool, start decorating!
Store finished cookies in airtight container for up to 1 week.
#TrainWithGrainsTip: The thickness of the icing does affect the decorating process of your holiday sugar cookies. Thicker icing is best for adding in those fine details- snow people eyes or a star on top of your cookie tree. Thin icing is best for an even layer of coating, like that all white snowflake cookie. Use piping bags, squeeze bottle, clean paint brushes and toothpicks to help decorate your cookies!
The original cookie recipe is from The Food Network the icing recipe is from Sally's Baking Addiction.