BBQ Ribs with a whisky glaze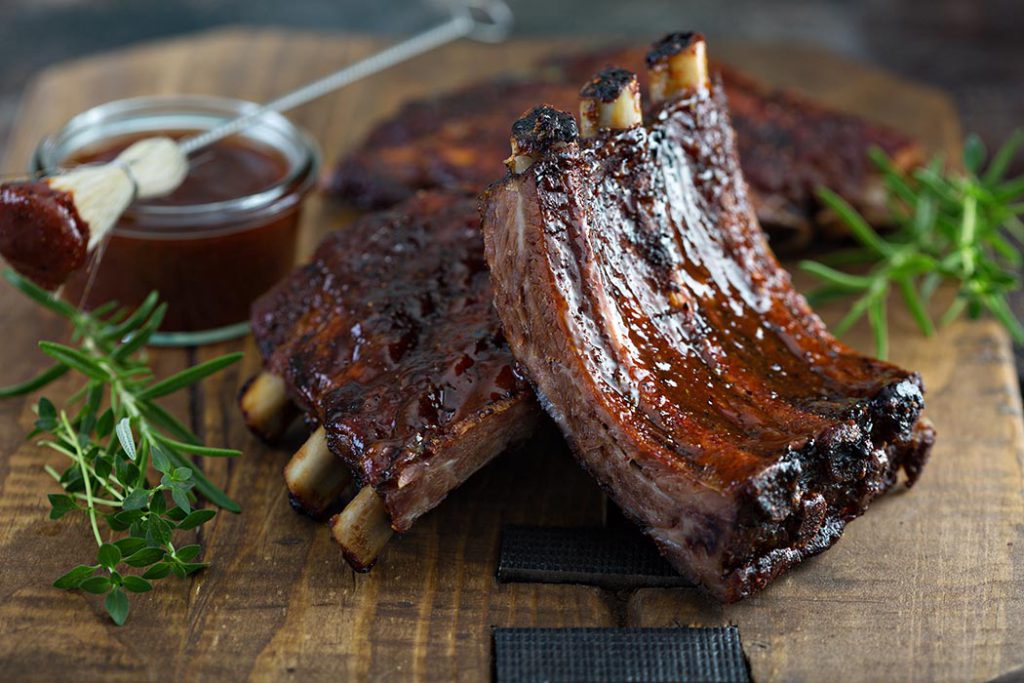 Did you know that May is national BBQ month? We are celebrating this delicious month with some tender ribs topped with our new favourite sauce made from the goodness of Ontario corn! Grill up some locally sourced BBQ Ribs with a Whisky Glaze to celebrate BBQ month, inspired by Simply Scratch and Entertaining with Beth!
Yield: 6 servings
Prep time: 1 hour
Cook time: 2 hours
Ingredients
Ribs
2 racks (~3lbs) baby back Ontario pork ribs
2 tbsp brown sugar
4 tsp ground cumin
4 tsp smoked paprika
2 tsp garlic powder
2 tsp ground coriander
2 tsp salt
Whisky Glaze 
½ a large sweet onion, sliced vertically into strips
4 cloves fresh garlic, smashed and peeled
¾ cup Ontario whisky
2 cups ketchup
⅓ cup apple cider vinegar
¼ cup Worcestershire sauce
½ cup dark brown sugar
1 tsp – 1 tbsp hot sauce
½ tsp kosher salt
½ tsp black pepper
Directions
Ribs: On a work surface, use a paper towel to peel away the white membrane on the back of the ribs. In a small bowl whisk together the brown sugar, cumin, smoked paprika, garlic powder, coriander and salt.
Place 2 large pieces of aluminum foil, fastened together by folding the seams, across a rimmed baking sheet. Repeat this set on another baking tray for the other rack of ribs. Place the foil going diagonally, since this is probably the only way the ribs will fit on the baking sheet. Place each rack on each piece of foil, rub the dry rub on ribs, both sides.
Preheat oven to 350°F. Wrap the racks together in heavy-duty aluminum foil. Transfer to a baking sheet and bake for 2 hours, until meat is tender.
Whisky Glaze: In a saucepan; add the sliced onions, smashed garlic and the whisky. Bring to a boil then reduce to a simmer and cook until the onions and garlic have softened, about 10 minutes.
Meanwhile combine the homemade ketchup, vinegar, Worcestershire, brown sugar, hot sauce, salt and pepper. Stir well until all is combined.
Once the onions and garlic are softened, add the ketchup mixture. Stir and simmer for 20 minutes.
Pour the barbecue sauce into a mesh strainer that is set inside a large bowl. Remove and discard the garlic and onion pieces.
Use right away in any recipe calling for barbecue sauce or cool and store in an airtight jar for up to two weeks.
Remove racks from foil and baste with the honey whisky glaze (save 1/2 of sauce for second basting) and roast for another 15 minutes until browned and glossy. Remove the ribs from oven and baste again with the honey whisky galze.
Preheat the grill, setting burners to medium. Oil the grate. Grill racks from 4 to 5 minutes per side. Transfer racks to a cutting board and cut into single ribs. Arrange in a platter and serve dipping sauce alongside.
---
Watch how we made these whisky marinated ribs:
---