Oatmeal chocolate chip cookie mix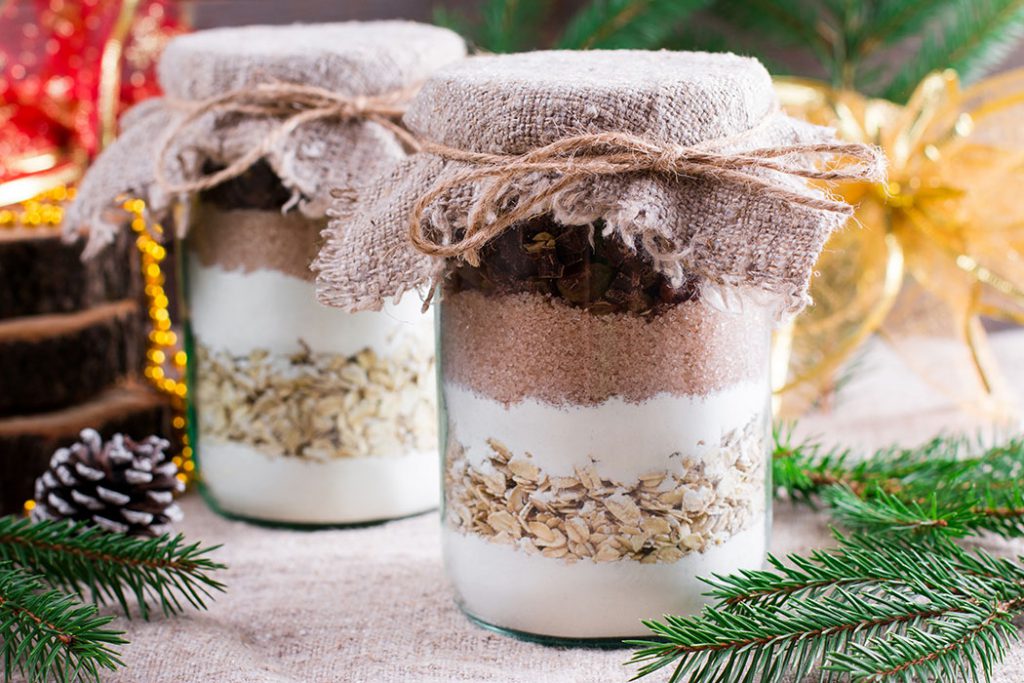 Give the gift of your favourite cookie mix rather than purchasing a gift. Oatmeal chocolate chip cookies are a great recipe staple, and makes an easy last-minute gift!
Yield: 1 jar of cookie mix
Prep time: 15 minutes
Ingredients
1 wide-mouth 1 litre mason jar
1 cup all-purpose flour
2 cups (240g) old-fashioned whole rolled oats
1 tsp baking soda
1 tsp salt
¼ cup granulated sugar
½ cup packed brown sugar
1 ¾ cups semi sweet chocolate chips
Directions
Layer the ingredients into the mason jar however you prefer, being sure to pack each layer prior to adding the next, finishing with the chocolate chips. Once all the ingredients are in the jar, put on the tin lid, add a piece of circular fabric or paper doily for decoration and screw on the lid.
Don't forget to create a label or card that includes the rest of the instructions:

To finish the recipe, you will need:
1/2 cup unsalted butter, softened to room temperature

1 teaspoon pure vanilla extract.
Directions:
Heat oven to 350 degrees F
In a medium bowl mix together butter, vanilla, eggs. Pour contents of jar into bowl and mix well with your hands.
Place heaping tablespoons of the mix two inches apart on a nonstick cookie sheet.
Bake for 12-15 minutes. Yields 20 cookies.