Corn and black bean chili with cornbread muffins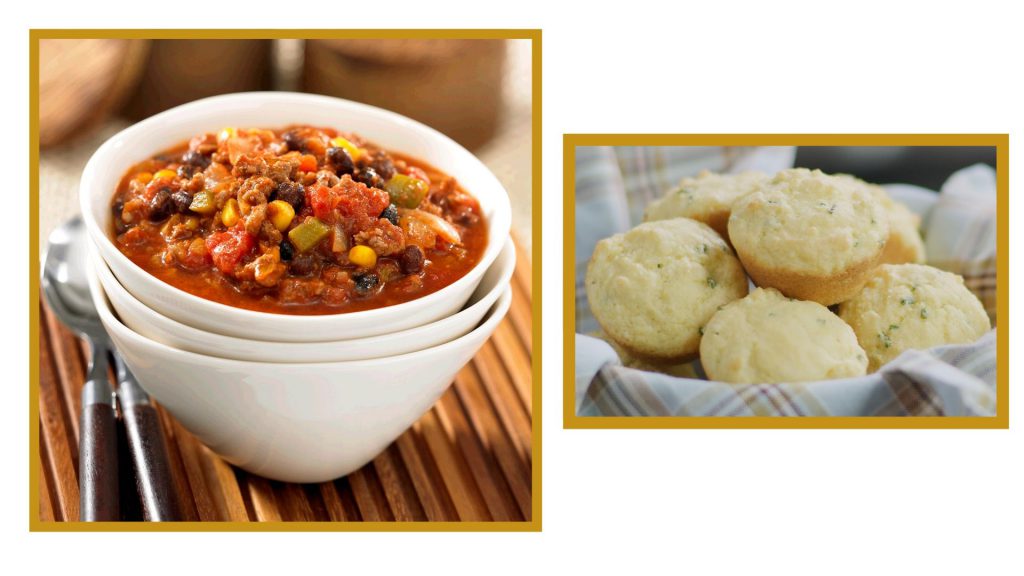 A lot of dietitians and health professionals have recently been talking about food synergy, especially when it comes to combining your protein choices. Food synergy is the idea that when consumed in combination, foods interact to deliver a greater nutritional benefit compared to when they are eaten separately.
We are working with Ontario Beef and Ontario Beans to share how the #PowerofProtein from three different protein choices: beef, beans and grains can work together to create delicious meals your entire family can enjoy. And with these three proteins working together you get the most (nutritionally) out of your meals than before.
Stay tuned for more recipes over the next 6 weeks and follow #powerofprotein to stay up to date.
First up, we are sharing a delicious recipe, courtesy of Canada Beef that uses many simple, pantry ingredients. Corn and black bean chili paired with cornbread muffins is the perfect easy weeknight meal.
Yield: 9 servings
Prep time: 5 minutes
Cook time: 30 minutes
Ingredients:
1 lb (500 g) Extra Lean or Lean Ground Round or Sirloin
1 large onion, diced
1 large sweet pepper, diced
2-3 tbsp chili powder
1 tsp ground cumin
1 can diced tomatoes
1 can tomato sauce
1 can black beans, drained and rinsed
1 ½ cups frozen corn kernels
Directions:
Add beef, onion, sweet pepper, chili powder and cumin in large saucepan or Dutch oven over medium heat until meat is thoroughly cooked and any liquid has evaporated.
Stir in tomatoes, tomato sauce, beans and corn.
Coniture to cook over medium-high heat until boiling.
Reduce heat to medium; simmer, covered, for 30 minutes, stirring occasionally.
Corn and black bean chili recipe and image courtesy of Canadian Beef – www.canadabeef.ca