Beef sirloin with mushroom whisky sauce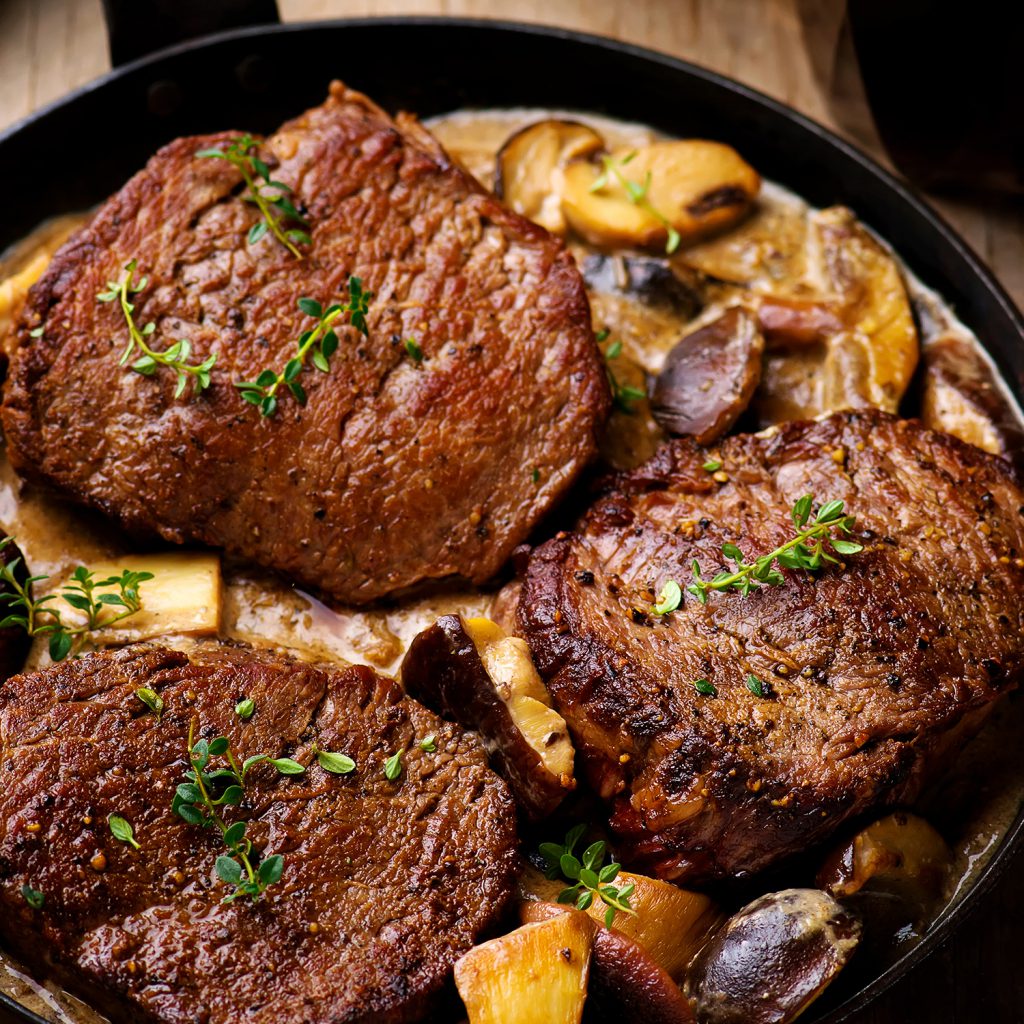 Prep time: Cook time: Serves: 6 to 8
Ingredients
2 lb (1 kg) corn fed beef sirloin grilling steaks
2 tbsp (30 mL) vegetable oil
2 tbsp (30 mL) each chopped fresh Italian parsley, chives and mint
2 tsp (10 mL) chopped fresh thyme
½ tsp (2 mL) each salt and pepper
Pinch hot pepper flakes
Mushroom whisky sauce
1 tbsp (15 mL) vegetable oil
1 lb (454 g) mushrooms (shitake and oyster), trimmed and sliced
2 shallots, finely chopped
4 cloves garlic, minced
1 tsp (5 ml) chopped fresh thyme
½ tsp (1 mL) salt
⅓ cup (75 mL) Ontario corn whisky
¾ cup (375 mL) beef broth
2 tbsp (30 mL) butter, softened
1 tbsp (15 mL) all-purpose flour
2 tbsp (30 mL) chopped fresh Italian parsley
Directions
Trim any visible fat from steak; set aside. In bowl, combine oil, parsley, chives, mint, thyme, salt and pepper and hot pepper flakes. Spread herb mixture all over steak.
Heat cast iron skillet over medium-high heat. Brown steak on both sides and place steak and pan in 400 F (200 C) oven for about 15 minutes or until desired doneness. Cover with aluminum foil and let rest for 10 minutes.
Mushroom Whisky Sauce: Meanwhile, in large non-stick skillet, heat oil over medium-high heat. Add mushrooms, shallots, garlic, thyme and salt; cook for 10 minutes or until mushrooms are golden. Add whisky to mushroom mixture and bring to boil. Add broth and return to the boil; boil for 2 minutes.
In small bowl, combine butter and flour. Whisk into sauce and simmer for about 2 minutes or until thickened. Stir in parsley.
Slice steak thinly across the grain and place on serving platter. Pour sauce in pitcher and serve alongside.