Kevin and Adriana VanderSpek, 52 weeks of #YOURFARMERS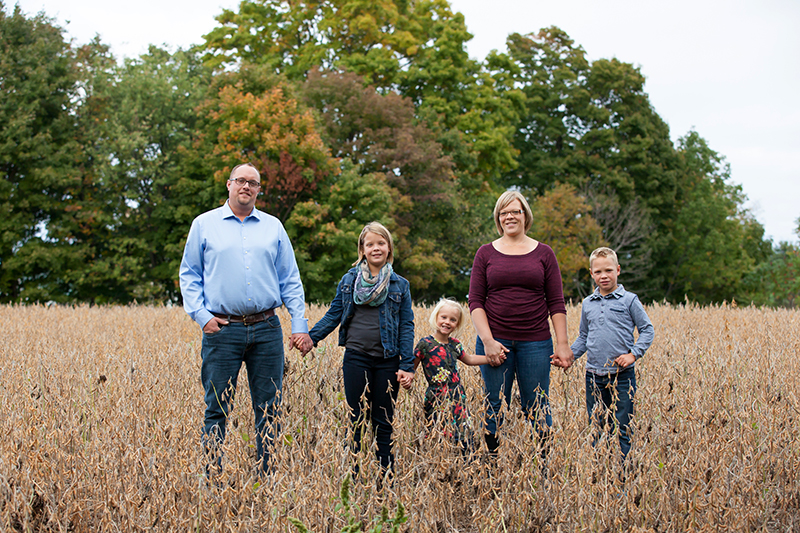 I work very closely with my agronomist and other crop experts to better manage the land we use & to produce high quality crops.
Kevin and Adriana farm 800 acres of corn, soybeans, and wheat on their farm outside of Fisherville in Haldimand County (Bains Brook Acres). Kevin also manages 160 acres of hay for his father-in-law and brother-in-law up the road on their dairy operation, and the VanderSpeks also do extra work for their neighbours.
Kevin grew up on a pig farm outside of Embro. He met Adriana while studying agriculture and crop sciences at Dordt College in Northwest Iowa. When they married and settled in Haldimand County, Adriana needed to work off-farm to support their new farm.
It's difficult to farm tough, clay soil like the land Kevin and Adriana own, but with the help of new technologies and cropping practices they're able to succeed. They apply the right amount of fertilizer at key points of the crop's development and they work closely with an agronomist and other crop experts to manage their land.
Kevin and Adriana have three kids – Makayla, Jacob, and Natalie – who are always encouraged to help out on the farm. Family time like sitting down for supper together every day or going camping is really important to Kevin, Adriana, and their kids.
52 Weeks of #YOURFARMERS
In 2017, we're highlighting a new Ontario grain farmer every week. Get to know us!