Frank Delorne, 52 weeks of #YOURFARMERS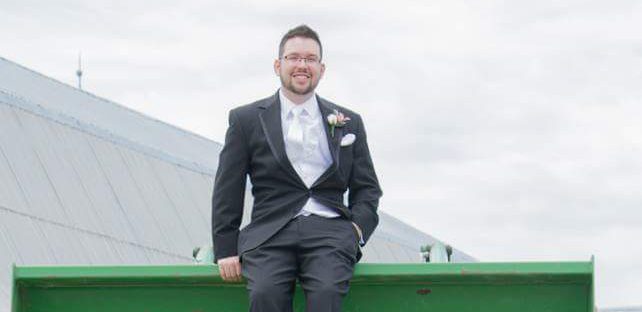 Frank is a 3rd generation farmer, and he grows spring and winter wheat, oats, canola, soybeans, and hay. Frank also works full time as a heavy equipment mechanic for his local John Deere, Honda, and Yamaha dealerships.
While runs his own 600 acres, and he also does custom work for other farmers in the area (they pay him to plant, harvest, and care for their land). Frank's grandfather and father both started out in the dairy industry before switching to a grain operation. After his father had a health scare in 2009, Frank joined the family business. Working two jobs full time keeps Frank busy, and he and his wife recently welcomed a baby boy (future farmer) to the family.
       I did not have any interest in farming coming out of high school so I went to college for heavy equipment mechanic which I am now licensed in. While working as a mechanic in 2009, my dad had heart problems so I helped on the farm that summer and I realized that farming is what I truly loved and wanted to do so I decided to join the family business.
---
52 Weeks of #YOURFARMERS
In 2017, we're highlighting a new Ontario grain farmer every week. Get to know us!