Get ready for mother's day with Good in Every Grain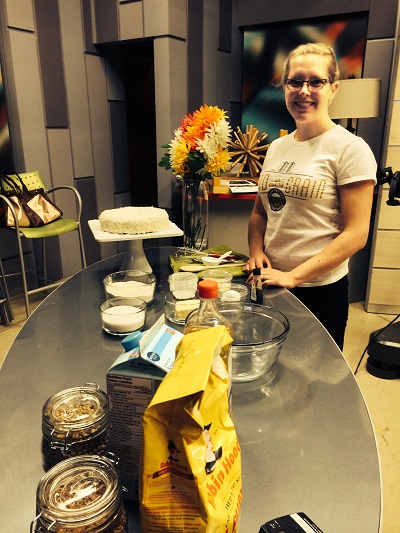 Earlier today, Good in Every Grain's own Laura Ferrier was a guest on Inside Brant, the popular talk show for Brantford and Brant County on Rogers TV. Laura shared her recipe for Coconut Layer Cake that incorporates wheat flour, corn oil, and soy milk–the three biggest grain crops in Ontario. Here's what you'll need if you want to make your own.
COCONUT LAYER CAKE
Ingredients:
(Cake)
1 cup white sugar
½ cup butter
1 egg
¼ cup corn oil
2 teaspoon vanilla extract
1 ½ cup all-purpose flour
1 ¾ teaspoons baking powder
½ cup unsweetened vanilla soy-milk
1 package of sweetened angel-flake coconut
(Icing)
3 cups confectioners' sugar
1 cup butter
1 teaspoon vanilla extract
1 to 2 tbsp vanilla soy-milk
Directions:
Preheat oven to 350 degrees F (175 degrees C). Grease and flour two round cake pans.
In a medium bowl, cream together the sugar and butter. Beat in the eggs, then corn oil, then stir in vanilla. Combine flour and baking powder, add to the creamed mixture and mix well. Finally stir in the soy-milk until the batter is smooth. Pour or spoon batter into the prepared pan.
Bake for 30 to 40 minutes in the preheated oven until a knife inserted into the middle of each cake comes out cleanly.
In a standing mixer, fitted with a whisk, mix together sugar and butter. Mix on low speed until well blended and then increase speed to medium and beat for another 3 minutes. Add vanilla and soy-milk and continue to beat on medium speed for 1 more minute, adding more soy-milk if needed for spreading consistency.
Spread icing in between cake layers and on the exterior of the cake with a spatula or icing knife. Pack the flaked coconut on the exterior of the cake to finish.