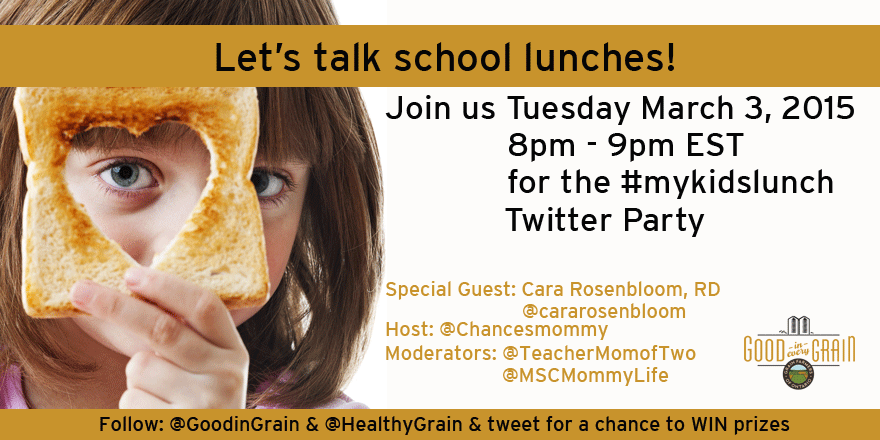 We know how important a healthy lunch is to help fuel your kids and get them through the day! We also know it's especially important to make sure kids are getting the necessary nutrients from all food groups to ensure they have a healthy and balanced diet.
To help you prepare nutritious lunches your kids will actually want to eat, we've partnered with Registered Dietitian, Cara Rosenbloom to create healthy children's lunch recipes and share her advice for creating simple, balanced lunches.
To celebrate and help facilitate healthy eating for kids at lunch-time, we're hosting the #MyKidsLunch Twitter party – and you're invited!
Join us (@GoodinGrain), host Christine McNaughton (@ChancesMommy) and moderators Renee (@MSCMommyLife) and Diana (@TeacherMomofTwo) in addition to special guests, RD Cara Rosenbloom (@CaraRosenbloom) and the Healthy Grains Institute (@HealthyGrain) on Tuesday, March 3 from 8 to 9 p.m. EST.
Excited about the party? Just wait, it gets better! In addition to great tips and tricks for packing healthy lunches, we're giving away special prize packs to eight lucky participants. One winner will even take home a $250 value grand prize! Prizes include grocery gift cards, Bento boxes, WOW Butter and of course, Good in Every Grain gear!
How to Participate in the Twitter Party
First, you need a Twitter account. If you don't have one, don't worry! Head to Twitter.com to create one for free. Second, RSVP for the chat using the Linky form above.
Finally, log into Twitter at 8 p.m. EST on Tuesday, March 3 and answer questions from your host, @GoodinGrain. Make sure to use the hashtag #MyKidsLunch in each of your tweets to be eligible for prizes.
Check out the Rules & Regulations here for full details.