Grain Discovery Zone update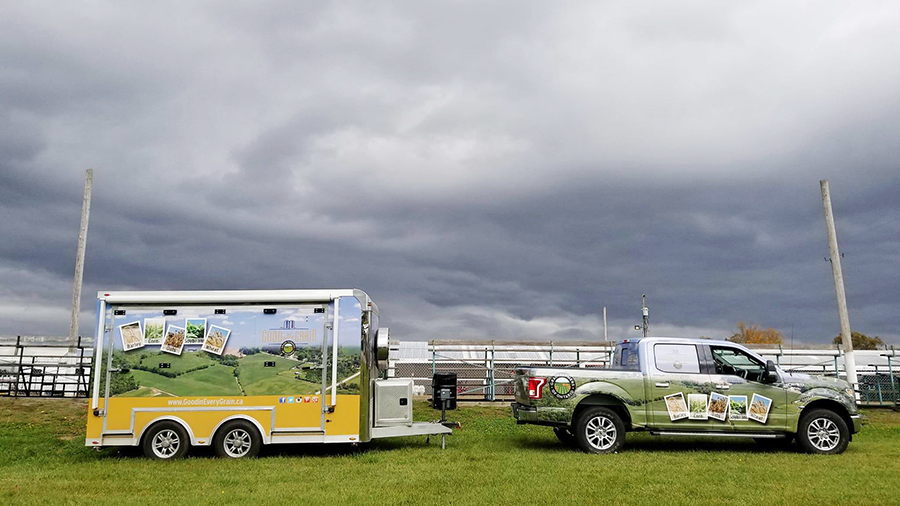 June continues to be a busy month for the Grain Discovery Zone. This past weekend was spent at one of the southernmost regions in the province in Leamington, the tomato capital of the province. Leamington's 166th annual fair offered a number of diverse activities to keep fairgoers busy throughout the three days including a stop at the Grain Discovery Zone.
Popular activities at the fair included a produce tent where taste testing of locally grown tomatoes, peppers and cucumbers occurred. Visitors tasted the different varieties and voted on their preferred choice and I can say that it was tough to decide! I often had to try the vegetables twice just to be sure!
There was also a demonstration of traditional aboriginal music and dance presented by First Nations people from across the province. The dress was beautiful and incredibly intricate and the drumming was enthralling. Between the dances, insight to the meanings of each beat of the drum and each body movement in the dance were discussed.
Other neat displays included a honey bee info stand, local students' artwork, antique tractors, steam engine and handmade quilts. Leamington Fair also boasts live harness racing and a demolition derby with a grand stand for spectators.
Looking ahead, the Grain Discovery Zone will be participating in Fords in the Park event at Country Heritage Park in Milton on the 21st and then will be heading to Norwich Township to celebrate Canada Day.
Don't forget to follow the Grain Discovery Zone throughout the summer and share your experience with us! Tweet @GrainFarmers #Discovery Zone.