May is Celiac Awareness Month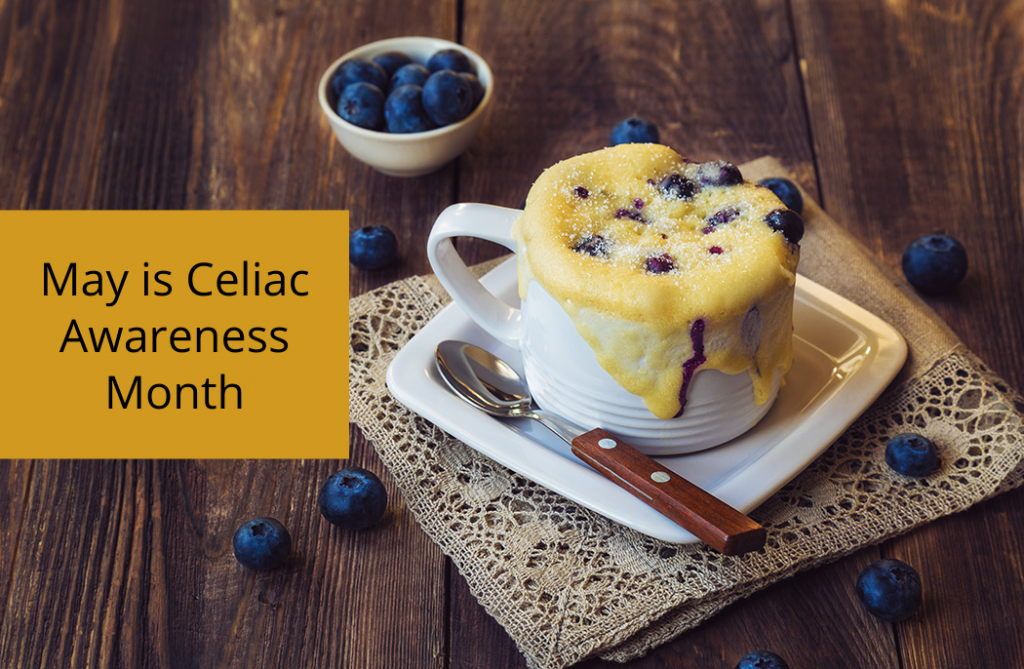 May is Celiac Disease Awareness Month, a month in which more light is shed upon celiac disease to increase the public's knowledge of this disease.
Celiac disease is an inherited autoimmune disorder where if gluten, a protein found in wheat, barley, and rye should and must not be consumed. If an individual with celiac disease consumes gluten "the individual's immune system responds by attacking the small intestine, inhibiting the absorption of important nutrients into the body" writes the University of Chicago's Celiac Disease Center. The small intestine is responsible for helping the body to further digest food coming from the stomach, and if inhibited by the consumption of gluten if an individual has celiac disease, it could lead to complications. The Celiac Disease center also states that "celiac disease can be associated with other autoimmune disorders and, if undiagnosed and untreated, can lead to osteoporosis, infertility, neurological conditions, and, in rare cases, cancer." Click here to learn more about celiac disease.
Health Canada states that, it is estimated that nearly 1.0% of the Canadian population (or 1 in 114 Canadians) are affected by celiac disease, although about 90% of celiac disease cases remain undiagnosed. The Whole Grain Council tells us that an additional 0.2% to 0.4% of the population may be allergic to wheat, and another 1-6% of the population may have non-celiac gluten sensitivity. Click here to see more stats on celiac disease.
There are many myths and facts that surround celiac disease, click here to read the truth. One of myths that exist is that individuals with celiac disease cannot eat any grains. Individuals who have celiac disease can enjoy grains by choosing gluten-free grains like corn, rice and quinoa just to name a few. Many people with celiac disease can also tolerate pure oats. While oats inherently do not contain gluten, oats in North America may have come in contact with gluten-containing grains during harvest, milling, or processing. Click here to see some of Canadian Celiac Association's gluten-free recipes.
Looking to make a celiac friendly recipe? Check out our blueberry muffin-in-a-mug recipe.
How can you help?
Throughout the month of May, you can help observe Celiac Disease Awareness Month in three main ways:
Donate to Celiac Disease Research

One of the ultimate goals of Celiac Disease Awareness month is raising funding to develop a cure.

Spread awareness online

Through online platforms we are all connected, so sharing a simple post or fact about celiac disease could be monumental in spreading awareness.

Share your celiac story

If you have experience with celiac disease, consider sharing your story this month.