The 2022 food supply chain concerns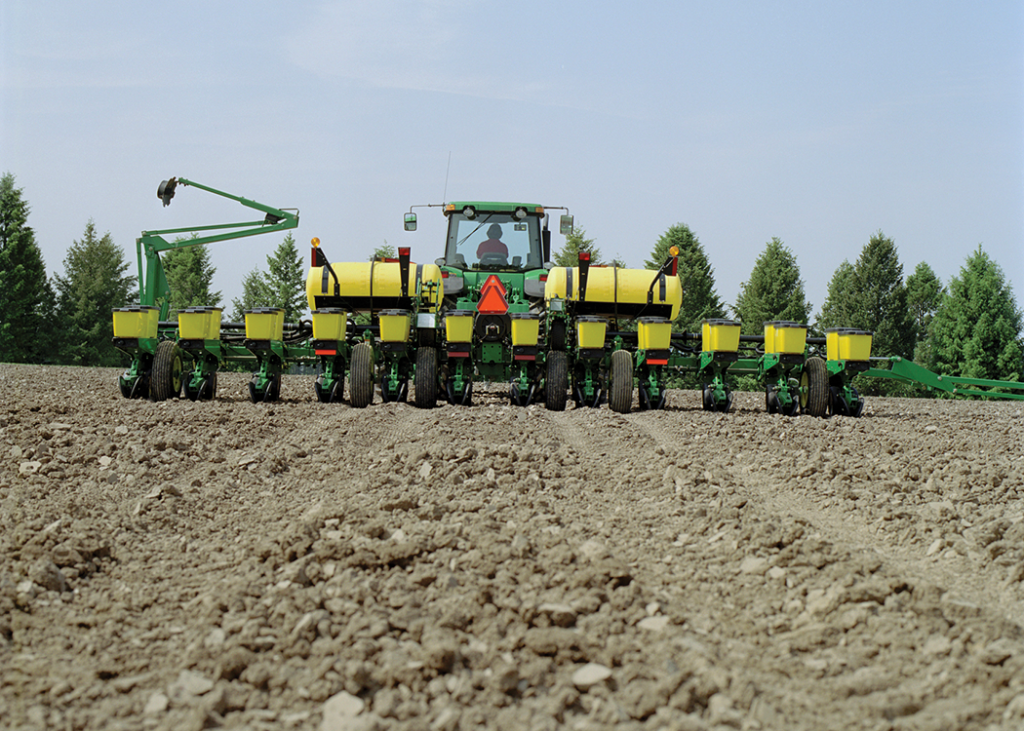 Looking at many news outlets in 2022 so far, it is hard to miss the information that has been shared about the Russian invasion of Ukraine this past winter and the ongoing ramifications of this war. While there are obvious humanitarian and ethical implications, there are also widespread impacts that are now being felt in Ontario – especially here in the farming community. Russia's invasion is jeopardizing the global food supply – especially in its neighbouring countries and large export partners, but did you know that the war is impacting the 2022 crop season for Ontario grain farmers? Already prices are increasing in the short term for things farmers need to successfully grow their crops, specifically fertilizer, and a loss in fertilizer means a loss in the amount of crop your farmers can grow.
We have shared many stories about how critical springtime is to the success of Ontario grain crops and farms. Farmers are entering their (arguably) busiest time of the year with growing uncertainty. Fertilizer is a key component to growing grain crops – it is nutrients, or food, for plants that is added to growing grains in the springtime. Fertilizers are unique blends of nutrients such as nitrogen, potash and phosphorous to name a few, that are blended to suit each field's unique nutrient needs. These blends are developed using soil tests and crop needs. They can be applied in a granular or solid form during planting, or as a liquid form later in the spring as grains are beginning to grow out of the ground.
The issue this year is the availability of fertilizer. What is planted today will have a direct impact on what grain is available at harvest time to feed people and livestock – if grain crops cannot grow successfully or produce as much due to lack of nutrients, there could be a strong concern about the availability of harvested grain this fall.
Furthermore, the conflict in Ukraine has caused the cost of inputs (seed, fertilizer, pesticides etc.) to increase. When inputs like fertilizer are no longer affordable, it puts a huge strain on an Ontario farm's ability to grow quality grains in abundance, which we all need as we use them in our everyday lives.
Let's think on this – when a restaurant or bakery's ingredients costs go up, they may need to increase the prices to offset their increased costs to keep their business running – we have seen this in many food services due to the pandemic in the last few years. With farms, farmers are not able to increase prices – those are set beyond your farmers control based on an ever-changing stock/commodities market.
Why is fertilizer hard to come by?
When Canadian agriculture purchases fertilizer from around the world, Russia is generally one of the top five countries we import fertilizer from (depending on the type of fertilizer). Russia accounts for 64 per cent of all of our urea fertilizer imports, and 21 per cent of our urea ammonium nitrate (UAN) imports. In early March the Government of Canada revoked Russia and Belarus' Most Favoured Nation status, subsequently imposing a 35 per cent tariff on all fertilizer shipments originating from Russia and Belarus that were not in transit prior to March 2, 2022. Obviously these tariffs and sanctions are an important tool for any government to use to punish global wrong-doing and to try to stop atrocities like those being committed by the Russian government and military in Ukraine.
In retaliation, as of March 20, 2022, Russian authorities plan to halt all fertilizer shipments to countries that have implemented economic sanctions on Russia. Only vessels that had departed Russia or are being loaded are permitted to continue to Canada to unload – but remember, just because they have set sail for Canada doesn't mean they can land here, and if they do, the fertilizer will cost 35-40 per cent more (without adding rising costs due to short supplies).
Given the timing that these events are unfolding, it is not possible for fertilizer importers to find alternate sources, and instead farmers are going to face shortages on available fertilizer they can feed to their crops. Based off estimated calculations the missing nitrogen can potentially lead to a 3.2 million tonne shortfall in production for Ontario corn for the upcoming growing season. Around the world many other countries that produce fertilizers are also facing challenges due to climate, high energy costs, world demand, and government restrictions due to an increased global demand.
Food crisis effects
Farmers in Ukraine and Russia produce about a quarter of the world's cereals (wheat, barley and corn), with key regions in North Africa and the Middle East dependent on their harvested grain. But, this supply chain has been significantly jeopardized by the tragic geopolitical events unfolding in Ukraine. Farms in Ukraine are not able to plant as much crop in the midst of this war and this conflict is forecasted to result in a spike in food prices between eight and 22 per cent over the coming months. Even more serious, many agriculture economists are predicting famine in several African countries within the next 18 months.
The implications here at home are more economical that sociological for now. We are still abundant in natural resources, and we will still have access to food. However, that food may cost more as global demand for less food increases and retailers potentially charge more, and Ontario farmers will have to weigh the ability to eek out a living from crop sales that will either be diminished because of lack of fertilizer or cost more to grow because of increased costs of nutrients. It's not a great choice and could put family farms in a very tricky spot.
Farmers are definitely asking the government to see what can be done about tariffs and global supplies, but mostly it would be a good time to thank a farmer for the food on your table and to give a friendly wave if you see a tractor on the back roads getting ready to plant.